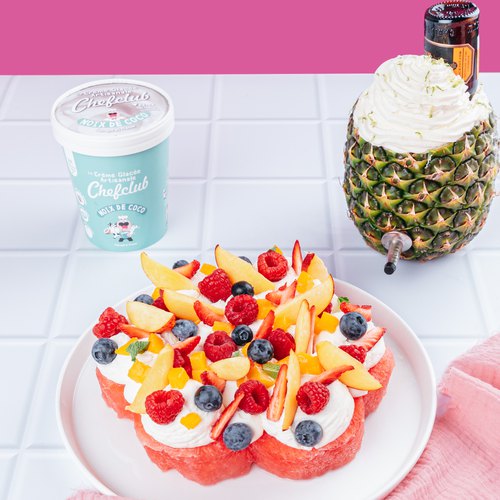 Tipsy Fruit Salad
It's party time in the kitchen 😁🥳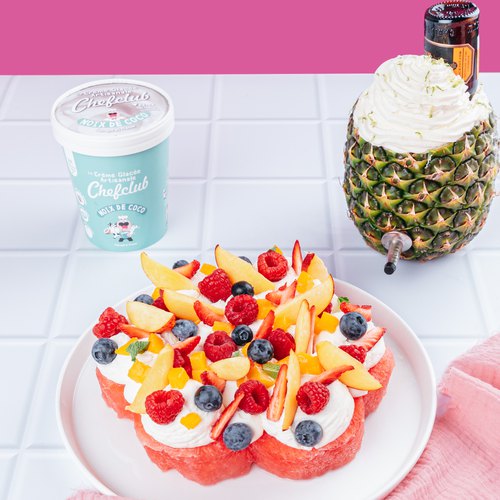 ---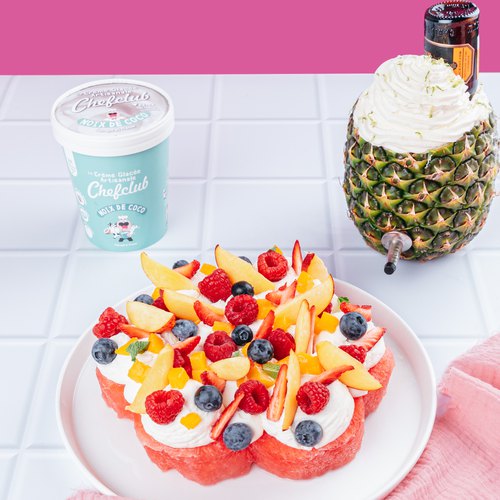 ---
Total time: 30 minutes
Prep time: 30 minutes
Ingredients for 6 people
1 watermelon
3 1/2 oz of mascarpone
1 pineapple
1 container of chefclub coconut ice cream
0.4 cup of dark rum
0.4 cup of white rum
12 raspberries
6 strawberries
1 mango
1 kiwi
10 leaves of mint
1 cup of heavy cream
2 tbsp of powdered sugar
1 lime
10 blueberries
---
Tools
Electric hand mixer
Piping bag
---
Step 1/3
Take out the Chefclub coconut ice cream to allow it to melt. Cut a slice in the center of the watermelon, place the slice on a plate, then trace a flower shape in the flesh of the watermelon using a glass. Cut out the outlines and unmold the watermelon flower. Whip the mascarpone into whipped cream, put the whipped cream in a piping bag and cut off the end. Pipe whipped cream balls on each petal and one in the center of the watermelon flower, then fill in the empty spaces with smaller whipped cream dots.
Step 2/3
Cut the strawberries into quarters and place them with the raspberries on the whipped cream. Peel and cut the mango into small pieces, add the mango pieces, blueberries and mint leaves to the whipped cream. Cut off the top of the pineapple and insert the spout at the bottom of the pineapple. Scoop out the pineapple. Put the pineapple flesh in the blender and add the Chefclub melted coconut ice cream, the white rum and the dark rum. Blend everything together before pouring the frozen cocktail into the pineapple.
Step 3/3
Whip the heavy cream and powdered sugar into whipped cream. Pour the whipped cream into a piping bag, cut off the end and pipe it over the pineapple. Add lime zest to the whipped cream. Enjoy!