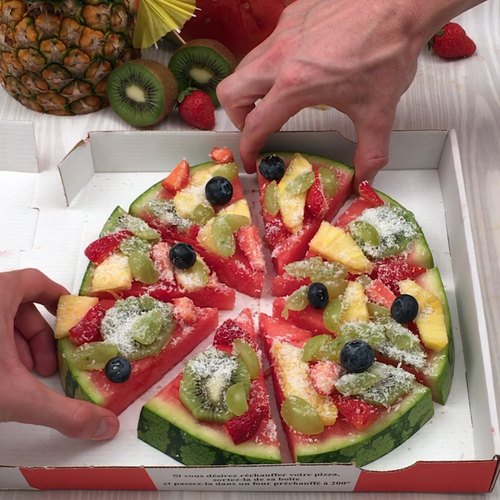 Recipe
What in the Watermelon
7 hacks for the perfect summer! 🍉💘🍉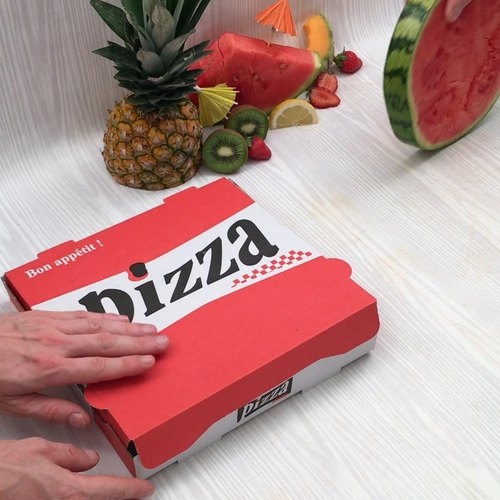 Cut a thick slice out of the largest part of a watermelon, place in a pizza box and decorate with sliced fruit (kiwis, pineapples, strawberries, grapes), and finish with a sprinkle of shredded coconut and blueberries. Cut into slices and eat like pizza.

Cut out a quarter of your watermelon and set aside. Scoop out the center of the watermelon until empty. Fill with your favorite fruit salad. Take the peel off a small cantaloupe and place in the watermelon on top of the fruit salad. Attach blueberry eyes with toothpicks and tie a bow around the top. Make a hole and fill it with a binky. Attach orange slices to the base of the watermelon like wheels and serve. Perfect for baby showers.

Cut the top off a watermelon and cut the center of the watermelon using an empty Pringles tube. Make an opening in the bottom of the tube with a knife to release the watermelon. Cut into 1/2-inch slices. Like a layer cake, place whipped cream on one watermelon, place a second watermelon on top, repeat with whipped cream. Top with sliced strawberries and mint.

Cut a large (at least 4-inch slice) of watermelon from the widest part of the watermelon. Using a mixing bowl, remove the rind. Stack 3 more watermelon layers on top of the base, they should decrease in size like a wedding cake. Decorate with bananas, kiwis, strawberry, blueberries, and basil. Pour vodka all over and serve small boozy bites.

Cut a watermelon half into long sticks, then skewer each one with a skewer. Dip in white or dark chocolate and cover in sprinkles.

Take the caps off your favorite booze and use them to cut holes in the watermelon rind, then stick open alcohol bottles into the holes you created. Let the watermelon absorb the alcohol and then cut open and use a melon baller to create balls, stick them on skewers with limes. Enjoy responsibly.

Cut a watermelon in half, scoop out the insides of one half. Create holes with a melon baller and stick uncooked rhubarb into the holes. Making sure they're the same length so you have a sturdy base. Secure with toothpicks as needed. Flip over and create a grill patter with skewers. Fill the bottom with blueberries before adding the final skewer. Create fruit skewers and then place them on top of your watermelon grill. Fill the base with melted chocolate and dip away.
It's ready!
SIGN UP
FOR FREE
TO SEE THE RECIPE
Discover the Chefclub cookbooks
More Chefclub recipes
Find Chefclub's top recipes in our best-of collection boxed set. These books compile our most-liked recipes from the community with tons of photos, set-by-step instructions, and kitchen tips! With these books you'll be able to create easy and tasty original recipes for any moment.
DISCOVER THE BOOK