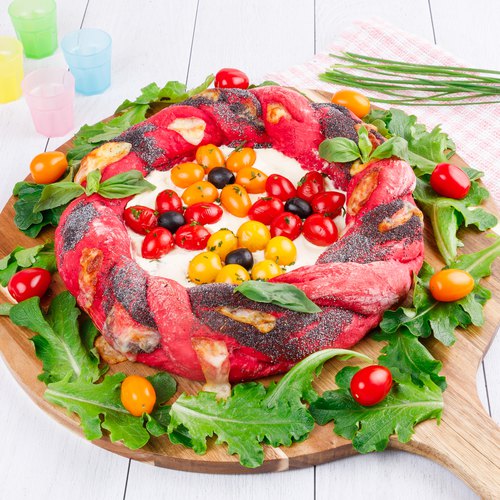 Braided Spring Pizza
Braided Spring Pizza! With tasty cherry tomato flowers 🍕🍅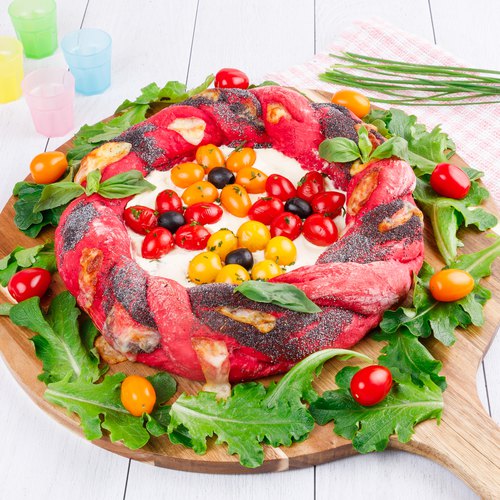 ---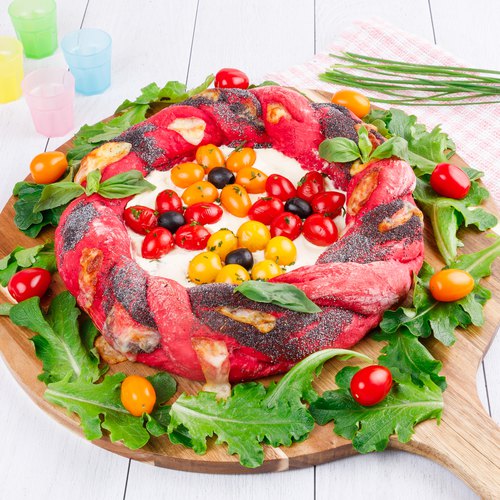 ---
Total time: 3 hours 15 minutes
Prep time: 40 minutes, Cook time: 35 minutes, Rest time: 2 hours
Ingredients for 4 people
1 beet
3 tbsp of sour cream
3 cups of flour
2 tbsp of yeast
Salt
1 cup of water
12 cherry tomatoes
12 yellow cherry tomatoes
4 cloves garlic
0.4 cup of olive oil
Rosemary
Chives
3 tbsp of poppy seeds
7 oz of shredded mozzarella
4 black olives
Basil
---
Tools
Electric hand mixer
Toothpicks
---
Step 1/4
Cook the beet in boiling water, mash it, add 1 tablespoon of sour cream and mix to make a puree. Mix the flour, salt, beet puree, yeast and 1 cup of warm water in a mixer until you get a smooth red pizza dough. Let the dough rise for 2 hours at room temperature. Separate into 2 pieces, make 2 strips of dough with one part and set aside. Spread the second piece of dough in a circle.
Step 2/4
Make a hole in all the cherry tomatoes using a toothpick, pass a sprig of chive through the space of 1 red cherry tomato and pass through 5 more tomatoes, making a chain of tomatoes. Tie the end to make a flower. Repeat the process with the rest of the tomatoes, grouping six by six with the chives. Cut the rest of the chives into pieces. Mix the oil, garlic and rosemary. Dip the cherry tomato flowers in the mixture, sprinkle with the chopped chives and set aside.
Step 3/4
Flatten the center of the pizza dough strips and cover them with grated mozzarella. Squeeze the dough leaving spaces and brush with water. Sprinkle one of the pieces of dough with poppy seeds, arrange in a cross and braid. Place the pizza dough on a baking sheet. Place the braid around the pizza dough to make the edge. Bake in the oven for 25 minutes at 350°F.
Step 4/4
Spread the rest of the cream in the center of the pizza dough, cover with the cherry tomato flowers and bake for 10 minutes at 390°F. Place the black olives in the center of the cherry tomato blossoms, add the basil leaves and enjoy!