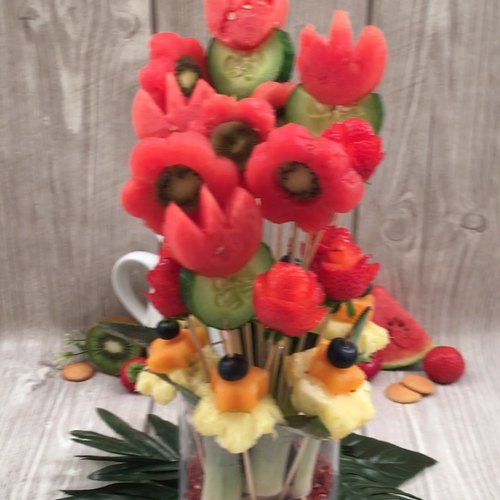 Better on a Stick
These recipes make eating extra fun!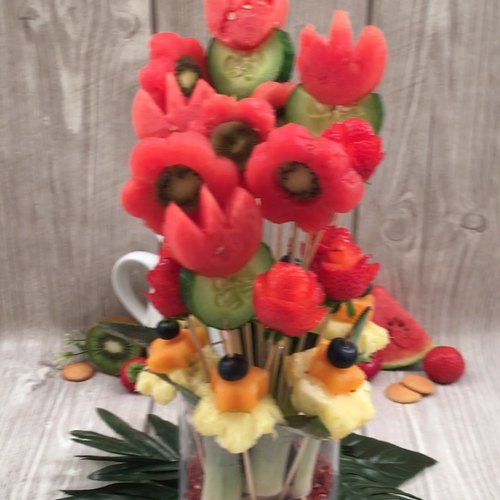 ---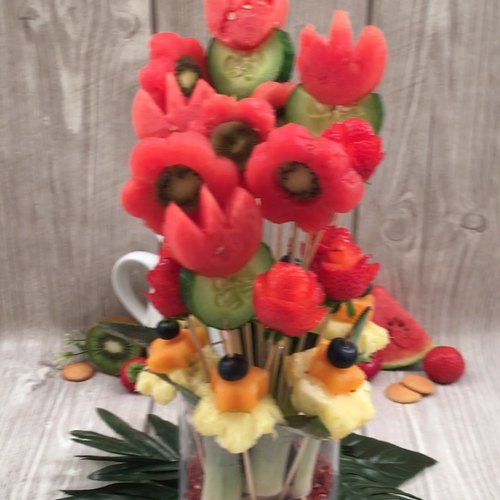 ---
Ingredients for 4 people
mini mozzarella balls
meatball mix
pizza dough, cut in strips
garlic butter
grated parmesan
marinara sauce
4 chicken breasts
waffle batter
powdered sugar
maple syrup
store bought cake
strawberries, sliced
whipped cream
freeze-dried strawberries
corn on the cob, cooked
melted butter
parsley
kiwi
pineapple
cantaloupe
watermelon
cucumber
blueberries
---
Tools
Skewers
---
Step 1/5
MEATBALL SUB POPS: Put a mini mozzarella ball in the center of a small portion of meatball mix. Roll to form a meatball. Line up three meatballs and weave a strip of pizza dough between the three meatballs. Insert with a skewer and place on a lined cookie sheet and bake for 30 minutes at 350 °F. When they are ready, brush with melted butter and sprinkle with grated parmesan. Best enjoyed with a side of marinara sauce.
Step 2/5
CHICKEN & WAFFLE STICKS: Line up the 4 seasoned chicken breast and insert skewers to attach all the chicken breasts together. Cut between the skewers to have cubes of chicken on each skewer. Dip the chicken skewers in waffle batter and cook using a waffle iron. When they are ready, dust with powdered sugar and serve with maple syrup.
Step 3/5
STRAWBERRY SHORTCAKE POPS: Cut out small holes from the store bought cake. Alternate layering the strawberries and cake onto the skewer. When the skewer is filled, dip in whipped cream. Roll in freeze-dried strawberries and enjoy.
Step 4/5
CORN ON THE COB FLOWERS: Insert three skewers into the corn on the cob. Cut between the skewers creating smaller corn on the cobs. Dip in melted butter and roll in grated parmesan cheese and parsley.
Step 5/5
EDIBLE FLOWERS: Cut out your favorite shapes from the fruit such as watermelon flowers, kiwi circles and cantaloupe stars. When the shapes are ready, insert a skewer to be the stem of the flower shaped fruits.