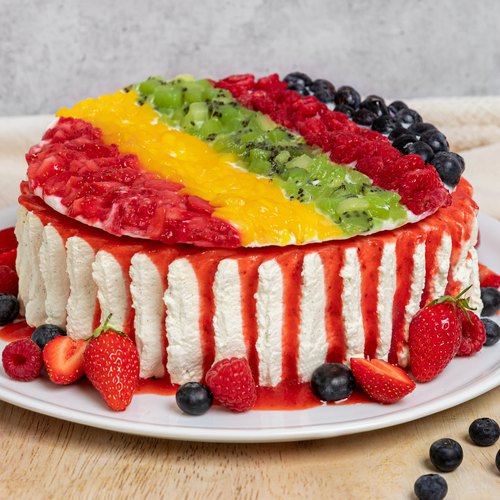 Fruity ice cream cake
Fresh & fruity for summertime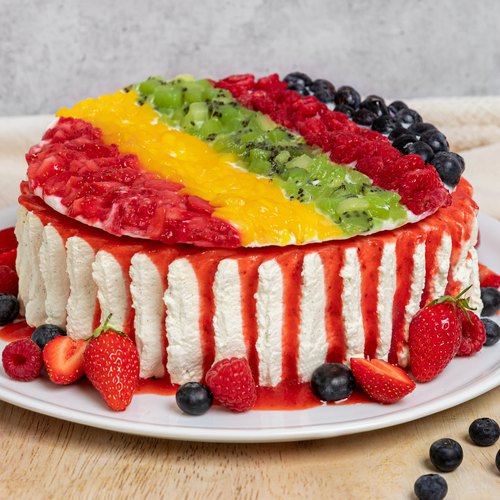 ---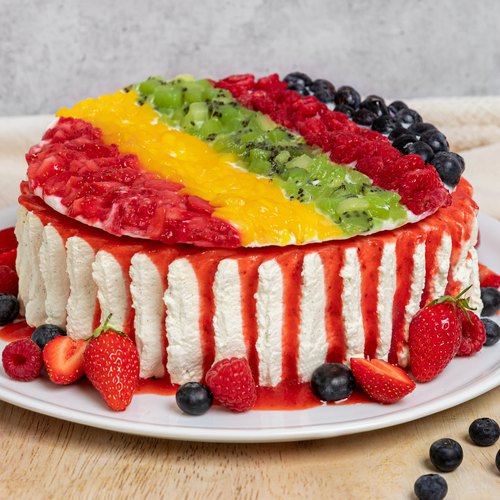 ---
Total time: 35 minutes
Prep time: 35 minutes
Ingredients for 6 people
4 yogurts
1 1/4 cups of strawberries
1 mango
3 kiwis
1 cup of raspberries
1/2 cup of blueberries
1 pint of chefclub coconut ice cream
1 cup of butter
1 1/4 cups of sugar
4 eggs
1 2/3 cups of flour
1 cup of mascarpone
2 cups of heavy cream
3/4 cup of powdered sugar
1 vanilla bean
1/2 lemon
salt
---
Tools
Plastic wrap
Springform pan
Ice cream scooper
Melon baller
Blender
---
Step 1/4
Dice a dozen strawberries, mango, kiwi, and raspberries. Flip over 3 yogurts and mash them with a spoon. Line a plate with plastic wrap and place the yogurt on the plastic wrap. Spread it thinly and spread the strawberry pieces into a vertical line on the end of the cake to make a strip. Place the mango pieces next to them, followed by the kiwi pieces, then the raspberries, and finish with the blueberries. Spread out the fruits delicately using a spoon to flatten slightly. Place the yogurt fruit tray in the freezer.
Step 2/4
Line the springform pan with plastic wrap and place 7 scoops of coconut ice cream in the bottom of the pan. Spread out the ice cream with a spoon. Place a strawberry in the center of the ice cream, then surround it with 7 mango balls made with the melon baller. Surround the mango balls with 10 strawberries arranged in a circle. Set aside in the freezer.
Step 3/4
Make the yogurt cake: mix the butter, 1 cup sugar, yogurt, flour, and eggs. Add a pinch of salt and bake for 15 minutes at 350 °F, then 30 minutes at 320 °F. Slit the cake through the center to obtain two halves, and place the coconut ice cream insert in the center. Close the cake and place it on a bowl to serve as a base. Cut the vanilla bean in half and scrape out the seeds, then whip the mascarpone with the vanilla seeds, heavy cream, and powdered sugar.
Step 4/4
Spread the whipped cream over the top and edges of the cake. Use a knife to make grooves in the edges of the cake. Use the remaining strawberries to make a sauce by blending the strawberries with the remaining sugar and lemon juice. Add water as you go so that the sauce reaches the desired consistency. Pour the sauce over the center of the cake, then place the yogurt and fruit circle on top to let the coulis flow over the edges into the grooves of the cake. Serve with remaining fruit and enjoy!