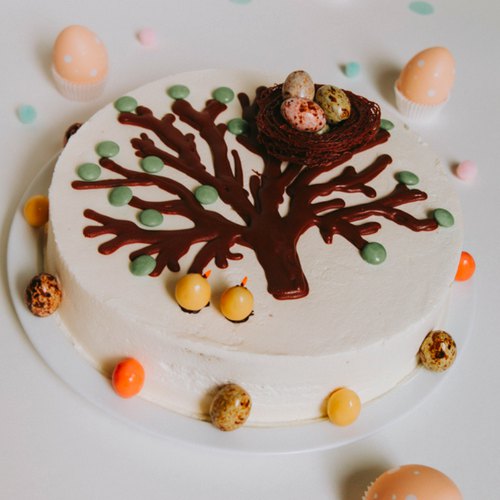 Easter Egg Hunt Cake
Overflowing with an egg-stra special surprise 🐣🌷🍫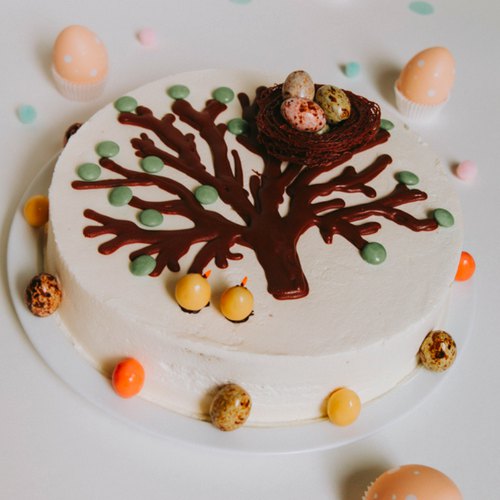 ---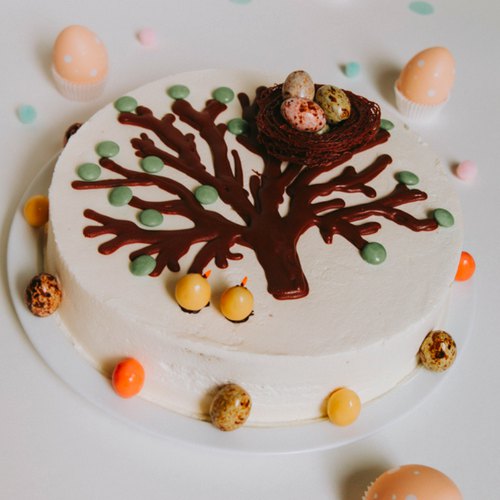 ---
Ingredients for 6 people
1 1/4 cups of milk chocolate
3 2/3 cups of sugar, divided
9 eggs
1 cup of yogurt
3/4 tbsp of canola oil
4 1/3 cups of flour
2 tsp of baking powder
1 1/8 cups of mascarpone cheese
2 cups of heavy whipping cream
chocolate eggs
chocolate candies
---
Tools
Freezer bag
Plastic paper sleeve
Springform pan
---
Step 1/5
Melt the milk chocolate. Print out
the tree template
and place in a plastic sleeve. Pour the melted chocolate into the freezer bag and cut off a bottom corner to make a piping bag. Trace the contours of the tree with the chocolate, adding several layers. Let the chocolate harden in the refrigerator.
Step 2/5
Place ice cubes in a bowl of water and draw two nests with the remaining melted chocolate: make successive circles with the piping bag until the chocolate hardens. Place the nests on a baking sheet covered with parchment paper and let harden in the refrigerator.
Step 3/5
Mix 3 1/3 cups sugar with the eggs. Then add the yogurt and sunflower oil and mix. In a separate bowl, mix the flour and baking powder. Then gradually incorporate into the wet ingredients. Line the inside of the springform pan with a circle of parchment paper and line the edges with two more strips. Pour the mixture into the pan and bake for 50 minutes at 350 °F.
Step 4/5
Remove the cake from the pan and let it cool. Next remove a circle from the center of the cake using a small bowl as seen in the video. Then fill the center with chocolate eggs.
Step 5/5
Whip the mascarpone with the heavy whipping cream and the remaining sugar. Cover the cake with the whipped cream and place the chocolate tree in the center. Place the nests on the branches and garnish with chocolate eggs and chocolate candies. Serve and enjoy!