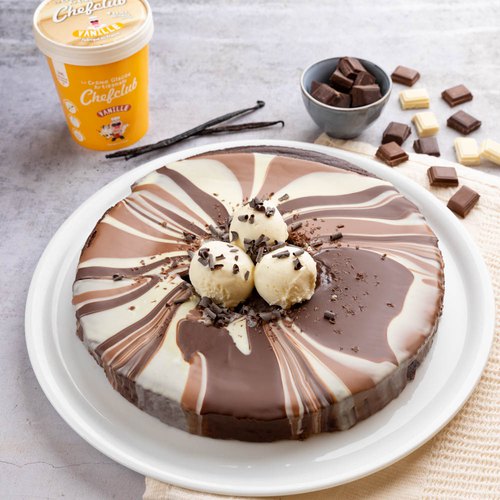 Triple Chocolate Marble Cake
This chocolate will leave you hypnotized 🍫🤤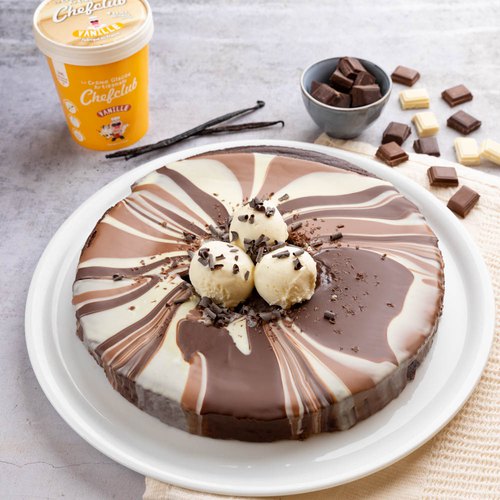 ---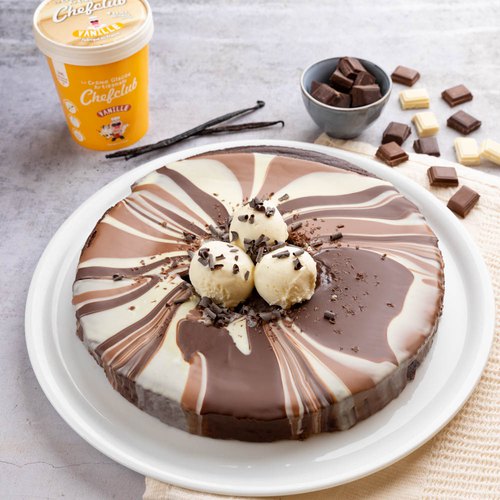 ---
Total time: 35 minutes
Prep time: 35 minutes
Ingredients for 6 people
2 cups of dark chocolate
5 eggs
3/4 cup of sugar
1 1/2 cups of butter
3/4 cup of flour
1/2 cup of white chocolate
1/2 cup of milk chocolate
1 container of chefclub vanilla ice cream
1 oz of shaved ice cream
whipped cream
chocolate shavings
---
Tools
Pitchers
Parchment paper
Microwave grill
Plastic bottle
Ice cream scoop
---
Step 1/5
Prepare the chocolate cake: melt 1 1/2 cups of dark chocolate, add eggs, flour, suga,r and melted butter. Bake for 1 hour at 265°F.
Step 2/5
Melt the remaining dark, white and milk chocolate in a double boiler in separate pitchers and add 1 1/2 tbsp butter to each pitcher to help melte the chocolate. Mix and set aside.
Step 3/5
Place the chocolate cake on a sheet of parchment paper. Place the rack over the cake so that it can be flipped over and raised. Remove parchment paper. Remove the top of the plastic bottle and use it as a cookie cutter to remove a circle from the center of the cake. Cut the small circle in half so that you have two small circles and set aside for later.
Step 4/5
Place the bottom of the bottle in the center of the cake. Then pour the different chocolates, alternating white, milk, and dark, over the bottle to create a pattern on the cake, covering it completely. Remove the bottle and set aside for 30 minutes in the fridge.
Step 5/5
Place one of the small cake circles in the center of the cake, fill with whipped cream, and cover with the last cake circle. Place 3 scoops of vanilla ice cream in the center of the cake. Sprinkle with shaved chocolate, serve, and enjoy!