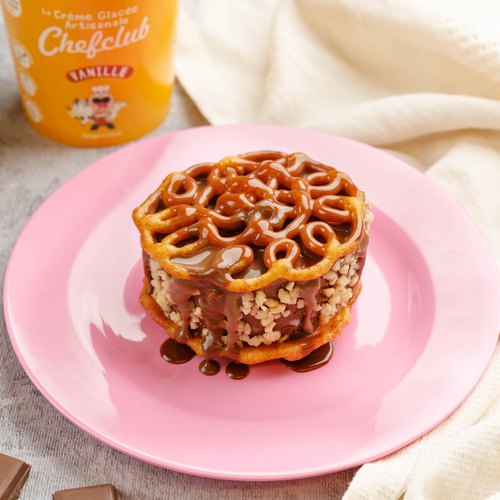 Churro ice cream sandwich
Don't worry, bikini season is over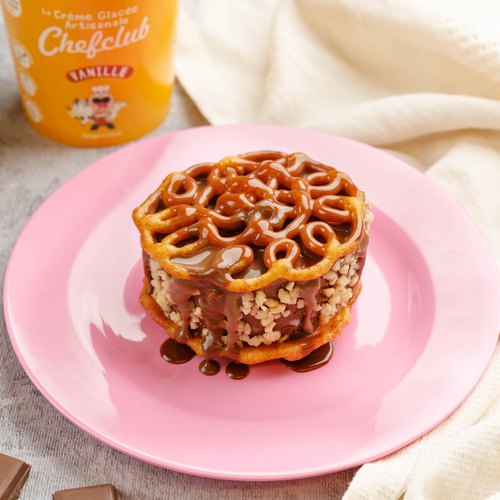 ---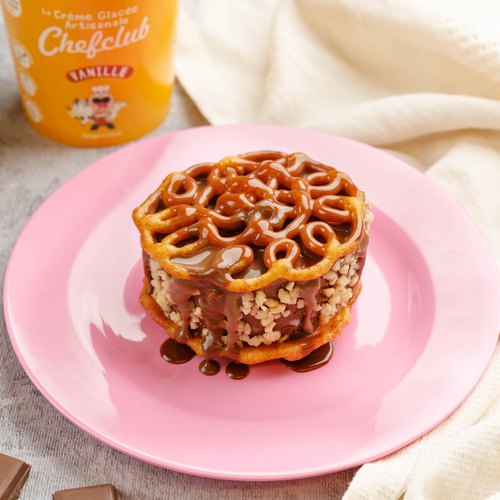 ---
Total time: 35 minutes
Prep time: 25 minutes, Cook time: 10 minutes
Ingredients for 3 people
1 tsp of milk
1 1/3 tbsp of butter
1 tsp of sugar
1/3 cup of flour
1 egg
1 cup of milk chocolate
1 container of chefclub vanilla ice cream
1 1/2 cups of chopped almonds
sunflower oil
salt
---
Tools
Slotted spoon
Piping bag
---
Step 1/3
Mix the milk, 1 tsp water, butter, sugar, and a pinch of salt. Bring the mixture to a boil, add the flour, and mix over the heat. Remove from the heat, add the egg, mixing well to obtain a churro batter.
Step 2/3
Put the churro batter in a piping bag and make flower-shaped patterns on the back of the slotted spoon. Dip the spoon in hot oil, make the same pattern on the other side of the spoon, and fry. Carefully place the churro flowers on a plate. Repeat the action until you have 6 churro flowers.
Step 3/3
Melt the milk chocolate and pour it onto a plate. Turn the Chefclub Vanilla Ice Cream upside down and remove the bottom by cutting around the edges with a box cutter. Turn right side up, stick a wooden spoon all the way through the ice cream, then place on top of a glass jar and push down to remove the container. Roll the ice cream in the milk chocolate and then in the crushed almonds. Cut the ice cream into 3 slices and place each on a churro flower. Cover with the other 3 churro flowers, drizzle the remaining melted milk chocolate on top, and enjoy!