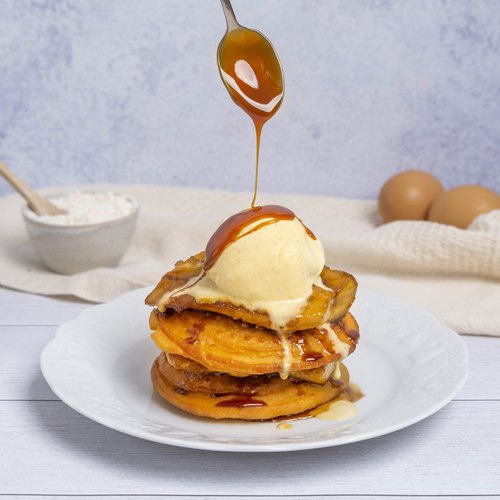 Fried PB & Banana Pancakes
A recipe that will make you go both nuts and bananas 🥜🍌😍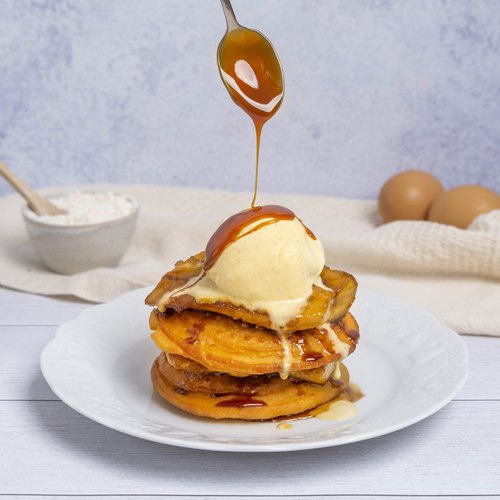 ---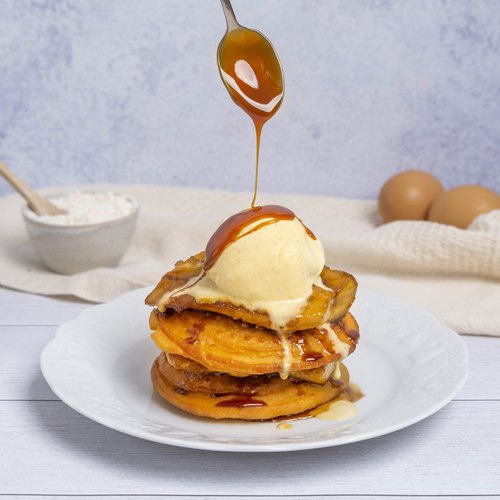 ---
Total time: 1 hour
Prep time: 1 hour
Ingredients for 4 people
6 cups of pancake batter
4 chocolate bars
1 cup of peanut butter
sunflower seed oil
6 tbsp of butter
1 cup of brown sugar
1 tsp of cinnamon
3 oz of banana liqueur
3 bananas
3 oz of rum
chefclub vanilla ice cream
---
Tools
Slotted spoon
Paper towels
Ladle
Blowtorch
---
Step 1/3
Prepare 6 cups of your favorite pancake batter. Dunk the chocolate bars in the peanut butter jar to coat evenly. Next, heat the oil in a large pot, pour a thin layer of pancake batter over the slotted spoon, and let cook about 10 seconds. Add half of a peanut butter coated chocolate bar in the center, pour the batter on top, and dunk in the oil to cook. Use a spoon to separate the fried pancake from the slotted spoon and let cook 10 seconds. Repeat until you have 8 pancakes, then set on paper towels to remove excess oil.
Step 2/3
In a frying pan, melt the butter, then add in the brown sugar, cinnamon, and banana liqueur. Cut 3 bananas in half lengthwise and place in the frying pan to caramelize. Carefully flambée the bananas by adding a ladle full of rum and lighting it on fire with a blowtorch. Let cook, cut the banana strips in half, and place in a bowl.
Step 3/3
On a serving plate, add 2 spoonfuls of caramel and place 1 fried pancake on top. Then add two banana half slices, top with a final pancake, and two more banana slices. Garnish with vanilla ice cream and enjoy!