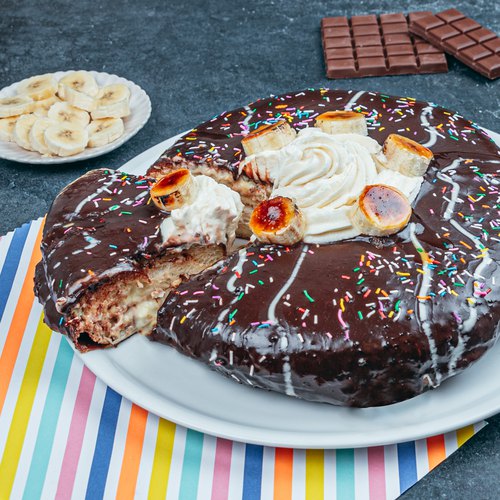 Boozy Boston Cream Donut
Boozy Boston Cream Donut! With vodka and caramelized bananas 😋 🍩🍸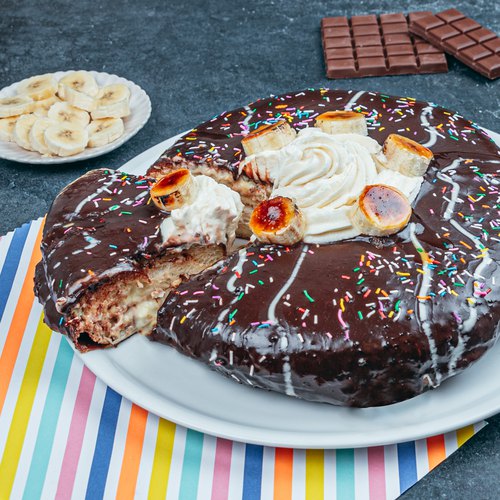 ---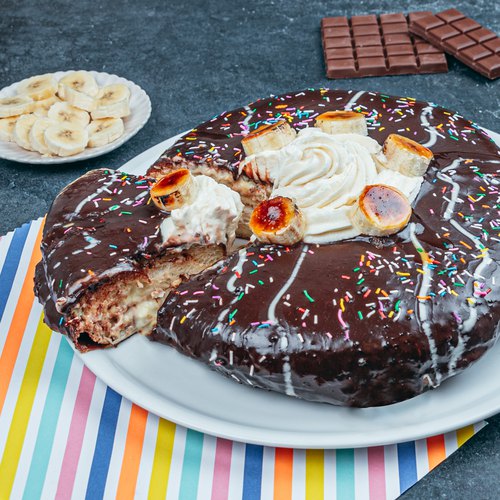 ---
Total time: 2 hours 10 minutes
Prep time: 15 minutes, Cook time: 5 minutes, Rest time: 1 hour 50 minutes
Ingredients for 10 people
3 1/2 cups of flour
3 tsp of yeast
0.3 cup of water
3/5 cup of buttermilk
1/4 cup of sugar
1 tsp of salt
1 egg
1/4 cup of cocoa powder
1 cup of powdered sugar
1 cup of chocolate chips
1 tsp of vanilla extract
1 package of jello vanilla pudding
1 1/2 cups of milk
1 cup of whipped cream
2 bananas
2 1/2 cups of heavy cream
1/4 cup of vodka
2 tbsp of caramel sauce
Oil
Butter
---
Tools
Piping bag
Cling wrap
Blowtorch
parchment paper
---
Step 1/4
Proof the yeast with the water and 2 tbsp of sugar for 5 minutes. Add the flour, buttermilk, butter and egg. Stir in the salt. Work the dough until smooth. Placed in a greased bowl and cover with plastic wrap. Allow to rise for an hour and a half at room temperature. Take the donut dough and spread out into a circle. Make a hole in the center. Transfer to a piece of parchment paper and allow to rise for 20 minutes. Fry in hot oil until golden brown. Set aside.
Step 2/4
In a bowl mix pudding and milk until it thickens. Sprinkle sugar on two peeled bananas and caramelize using a blow torch. Mash the bananas with a fork then fold into the cream. Place in a piping bag and fill the inside of the donut with filling.
Step 3/4
Stir together the powdered sugar, cocoa powder, and chocolate chips. Pour the 1/2 cup of hot heavy cream onto the mixture and stir to combine. Add vanilla. Stir until smooth. Spread the glaze over the doughnut.
Step 4/4
Combine caramel sauce with vodka. Whip 2 cups of heavy cream to soft peaks then slowly add the caramel vodka. Decorate the center of the doughnut with the whipped cream, add some caramelized banana slices. Serve and enjoy!