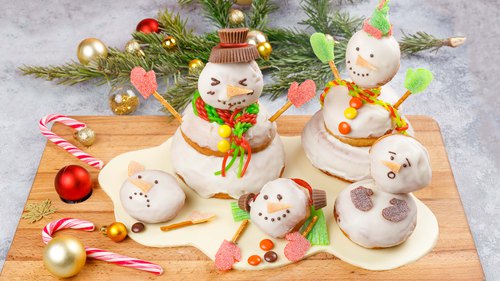 Jolly Good Fellow Donuts
Jolly Good Fellow Donuts! You snow this recipe is delicious 😚☃️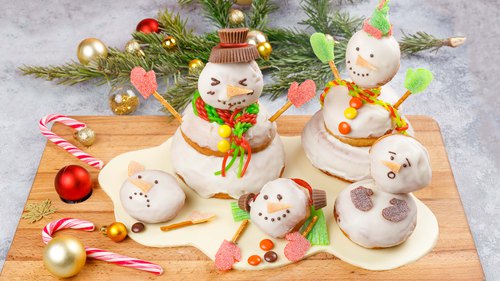 ---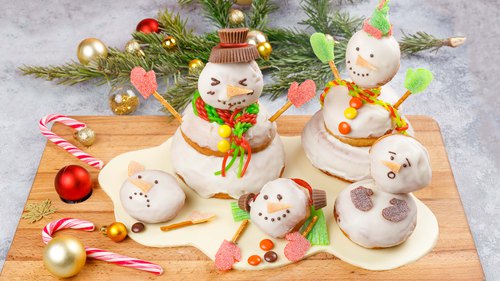 ---
Total time: 3 hours
Cook time: 10 minutes, Rest time: 2 hours 50 minutes
Ingredients for 6 people
3 1/2 cups of flour
2 tbsp of yeast
1/4 cup of sugar
0.3 cup of buttermilk
4 tbsp of butter, melted
1 l of vegetable oil
1/4 cup of milk
2 cups of powdered sugar
3 cups of white chocolate
Candy strips
6 pretzel sticks
Reese's pieces
Reese's peanut butter cups
Reese's peanut butter mini cups
Twizzlers
2 tbsp of melted white chocolate
2 tbsp of melted dark chocolate
---
Step 1/4
In a bowl, add the flour, yeast, sugar, but,termilk and melted butter. Knead until the dough is smooth. Place the dough in a lightly greased bowl and cover with a kitchen towel. Allow to rise in a warm place until it doubles in size. Punch down the dough then place it in the refrigerator to chill. * This step can be done the day before, simply place the dough in the refrigerator to rise overnight. Place the dough onto a lightly floured counter. Use an empty can to cut large circles of dough. Stretch the dough and create a hole in the center with your fingers. Continue stretching to obtain a doughnut shape. Place the dough on individual squares of parchment paper. Form 3 balls of dough slightly smaller than the main doughnuts. Create 4 more balls a bit smaller than the other 3. Place all of these on parchment paper. Cover with a kitchen towel. Let the dough rise for 20-30 minutes.
Step 2/4
On a baking sheet covered with parchment paper, add the white chocolate in the form of a puddle. Place it in a cold oven and turn it on to the lowest temperature. Allow the chocolate to melt slowly. Using a rubber spatula, spread the chocolate around in a puddle shape. Add in small decorations such as the Reese's pieces candy as buttons, pretzel arms and candy strip scarf. Place the baking sheet with chocolate into the refrigerator to set. Prepare the doughnut glaze by adding the milk to the powdered sugar until the mixture is smooth and not too liquidy. Set aside.
Step 3/4
In a large pan, heat the oil to 350°F. Remove the parchment paper and fry the donuts until golden brown. Make sure to cook both sides. Once the doughnuts are cooked, place them on a cooling rack over a baking sheet. Pour the glaze over the donuts until they are completely covered.
Step 4/4
Once the doughnuts have cooled and the glaze has set, take out the white chocolate "puddle". Stack the doughnuts on the white chocolate; creating 2 full-sized snowmen, a medium snowman and 2 snowmen heads. Add candy decorations and use melted white chocolate to set everything in place. Use melted dark chocolate to make snowmen's faces. Enjoy!