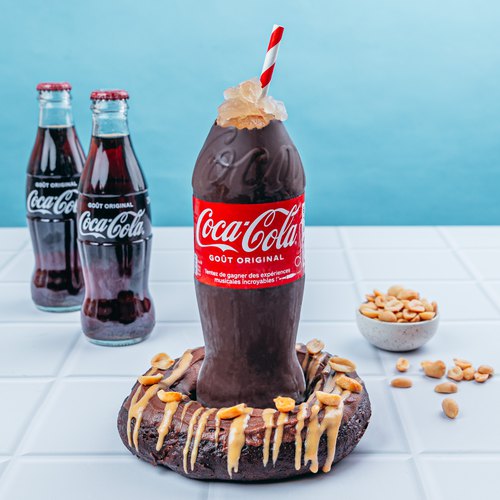 Coke & Peanut Donut
Coke & Peanut Donut! This dessert is sodalicious 😘🍩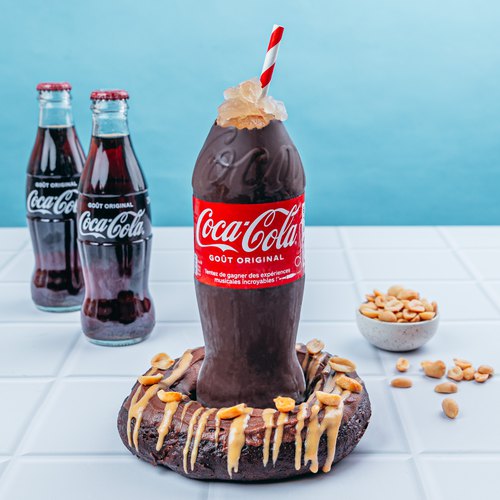 ---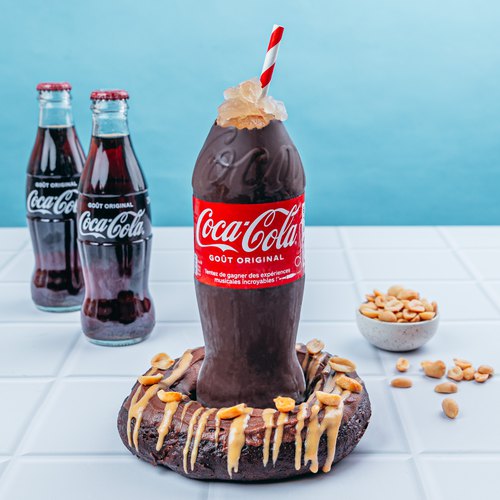 ---
Total time: 3 hours
Cook time: 3 hours
Ingredients for 3 people
1 bottle of coca-cola
1/2 cup of peanuts
1 1/2 cups of milk chocolate
1/4 cup of cocoa powder
1 1/2 cups of flour
2 tsp of baking powder
1/2 tsp of salt
0.3 cup of sugar
4 tbsp of butter
1 egg
1/2 cup of coca-cola
2 tbsp of greek yogurt
2 tsp of vanilla extract
Frying oil
3 tbsp of peanut butter
1/2 cup of powdered sugar
1 tbsp of milk
---
Tools
parchment paper
Piping bag
Blender
Whisk
Ice cube trays
---
Step 1/5
Sprinkle the ice tray with the peanuts and pour the coke over them until the ice cube tray is full. Freeze until solid.
Step 2/5
Rinse the empty coke bottle and dry the interior. Pour the melted chocolate in the bottle and turn to coat the interior evenly. Chill to set the chocolate.
Step 3/5
Mix the cocoa powder, flour, 1/3 cup of sugar, baking powder and 1/2 tsp salt. Add in 2 tbsp of butter, egg, coca-cola, greek yogurt and 1 tsp of vanilla. Mix until blended. Allow the doughnut butter to rest for at least 15 minutes. Preheat the oil to 350°F. Fill a piping bag with the doughnut batter. On a small square of parchment paper. Place a coke bottle in the center. Pipe the doughnut batter using the bottle as a guide to get the right size. Slide the parchment paper with the doughnut into the hot oil. Fry a couple minutes of each side. Remove from the oil and allow to cool. Continue making doughnuts with the remaining batter.
Step 4/5
Make a chocolate glaze by mixing together 1 oz of chocolate, 1/2 tsp vanilla, milk, 1 tbsp of butter and 1/2 cup of powdered sugar. Stir until smooth. Make the peanut butter glaze by mixing together the peanut butter, 1 tbsp butter, 1 tbsp powdered sugar and 1/2 tsp of vanilla. Stir until smooth. Dip the the doughnuts into the chocolate glaze, then drizzle the peanut glaze over the top. Sprinkle with peanuts.
Step 5/5
Fill the blender with the coke ice cubes and blend to combine. Unmold the chocolate bottle by cutting away the plastic bottle. Fill the chocolate bottle with the coke slushie. Serve with donuts and enjoy!