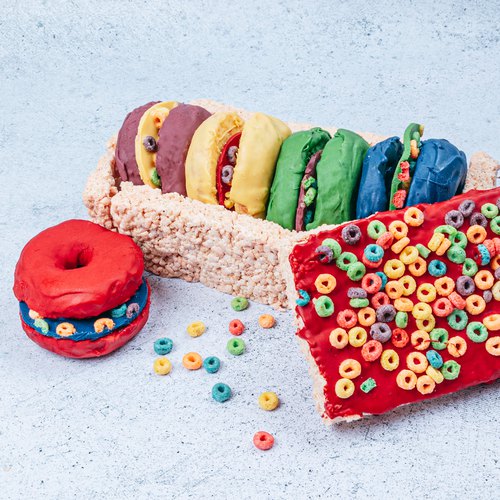 Fruit Loop Donuts
Fruit Loop Donuts! You will cerealsy love this colorful recipe 😉🥣🍩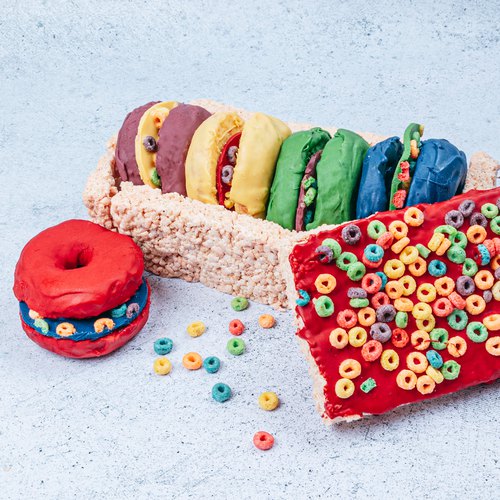 ---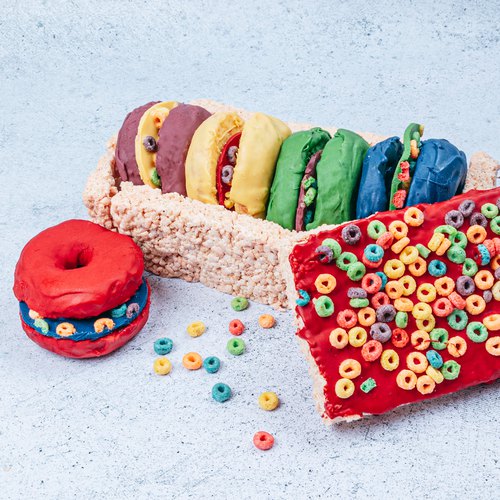 ---
Total time: 1 hour 15 minutes
Prep time: 15 minutes, Rest time: 1 hour
Ingredients for 10 people
5 unglazed donuts
2 cups of froot loops cereal
8 cups of rice krispies
8 cups of marshmallows
2 cups of white chocolate
2 cups of red candy melts
1 cup of blue candy melts
1 cup of green candy melts
1 cup of purple candy melts
1 cup of yellow candy melts
---
Tools
Small round cookie cutter
---
Step 1/4
Melt the marshmallows in a big pot. Add the froot loops cereal and stir until blended. Melt 2 cups of the white chocolate and add it to the cereal. Mix once more. Roll out into a large rectangle shape and cut to create a box. Place in freezer.
Step 2/4
Melt 2 cups of red candy melts and use 1 cup to coat the cereal-marshmallow lid. Sprinkle with froot loops and freeze for 30 minutes.
Step 3/4
Cut the donuts in half and cover two halves with the remaining red candy melts. Using the remaining chocolate, spread it over a lined surface and sprinkle with froot loops to make bark. Set in the freezer, then using a cookie cutter, cut the bark into a circle to stuff in between the donuts once they're all set. Coat the rest of the donuts with the different colored candy melts.
Step 4/4
Place the rainbow donuts inside the box and add the lid on top. Serve and enjoy!