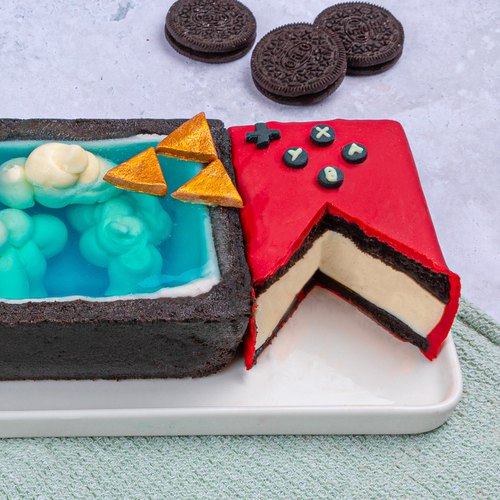 Zelda Twitch Cake
Zelda Twitch Cake! Channel your inner Link with this dessert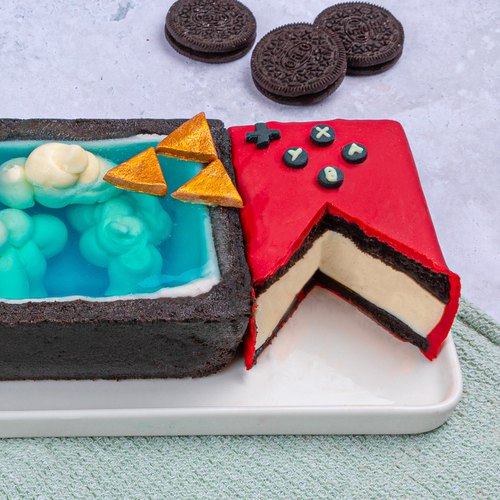 ---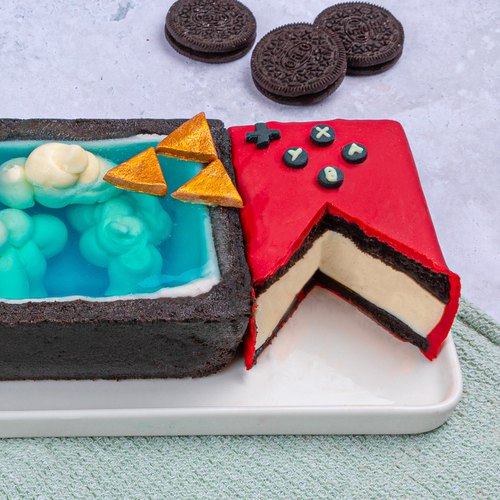 ---
Total time: 2 hours 25 minutes
Prep time: 20 minutes, Cook time: 5 minutes, Rest time: 2 hours
Ingredients for 4 people
1 oreo cheesecake
Red candy melts
Blue candy melts
Black fondant
Jello packets
White chocolate
Grey candy melts
Oreos ®
White fondant
Gold fondant
---
Step 1/4
Cut 2 squares of oreo cheesecake, dip one in the red candy melts and the other in the blue candy melts. Cut small circles and rectangles in the black fondant to create the buttons of the joystick. Place on the blue and red cheesecake. Decorate with melted white chocolate and refrigerate to set.
Step 2/4
Mix the oreos and cheesecake mixture until smooth. Press into a loaf pan so that all the sides are covered. Place a rectangle of white fondant over the oreo and cheesecake mixture. Unmold then prepare the jello according to package instructions and fill the loaf pan halfway. Refrigerate to set.
Step 3/4
Pipe buttercream on a plate to resemble rocks and refrigerate to harden. Dip in melted white chocolate and grey candy melts. Refrigerate to set, place in the loaf pan, add the Link toy and top with additional blue jello. Refrigerate to set.
Step 4/4
Place the cheesecake joysticks on each side of the jello loaf. Create Link's Triforce with gold fondant and place on top of the jello. Serve and enjoy!