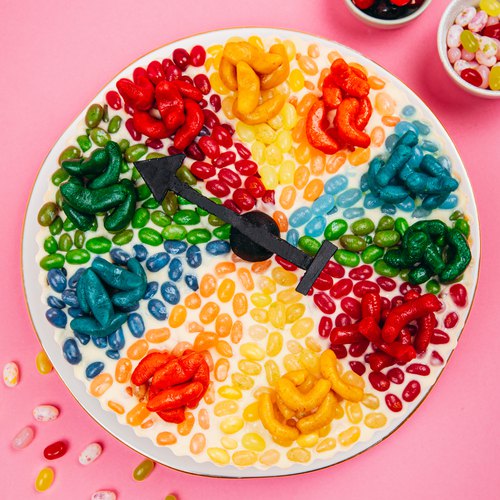 Spin The Wheel Cake
Spin The Wheel Cake! Take this desset for a spin 😃🎂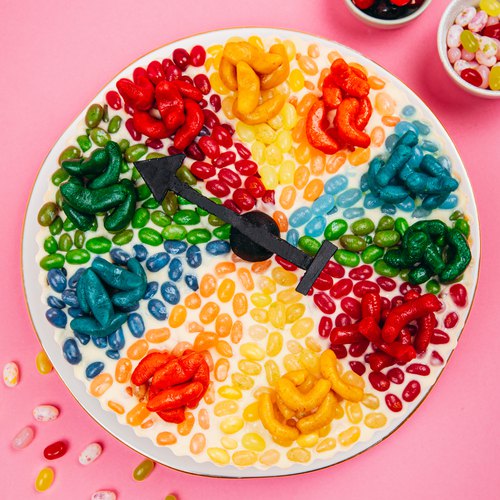 ---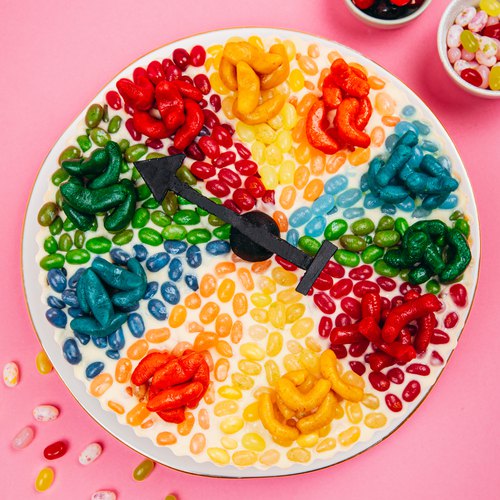 ---
Total time: 40 minutes
Prep time: 10 minutes, Cook time: 10 minutes, Rest time: 20 minutes
Ingredients for 6 people
1 cake
5 oz of currants
5 oz of blueberries
1 lb of jello packets
5 lbs of water
5 lbs of jelly beans
5 oz of white chocolate
Food coloring
---
Step 1/5
Cut cake into 10 equal slices. Place five of those slices into a greased 9" round pan. They should be placed so there is an equal sized gap between each piece. Place some blueberries and currants in the gaps between slices.
Step 2/5
Place the gelatin powder in a pot. Place 5 lbs of water in the pot with the powder. Turn on medium-low heat and dissolve gelatin powder completely. Once dissolved, slowly pour into pan with cake and fruit. Once set, flip upside down onto circular cutting board.
Step 3/5
Take a 10" baking pan and line the bottom with parchment paper. Spray bottom and sides of pan with nonstick spray. Color code the jelly beans into 10 different colors. Place each color into a triangle inside the pan. Place in the oven at 350°F for 10 minutes. Remove from the oven and place another piece of parchment paper on top. Take a cup with a flat bottom and press into jelly beans. Allow to cool.
Step 4/5
Take leftover cake and add in white frosting until a moldable consistency. Pull out 1/4 oz pieces of mixture and use food coloring to dye each piece to match a different color of candy. Mold each piece to look like jelly beans. Place in the freezer to harden.
Step 5/5
Place the wheel on top of gelatin cake. Create a chocolate spinner and place on top. Add the cake pop candy beans. Serve and enjoy!