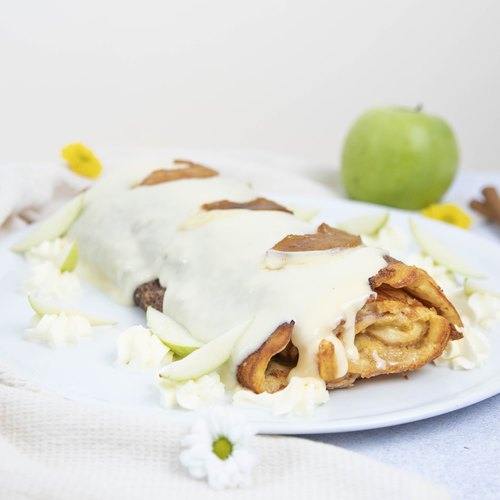 Cinnamon Roll Pancake Loaf
Filled with caramelized apples 🤤🥞🍏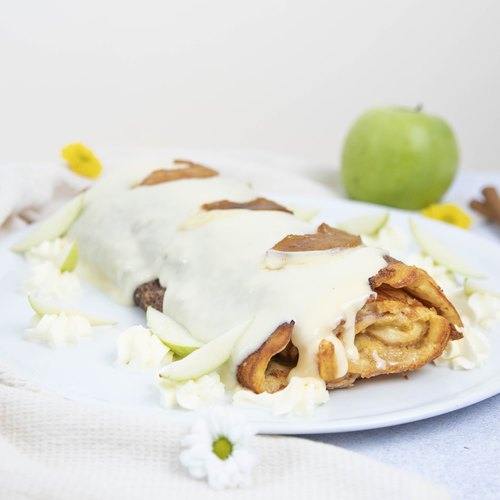 ---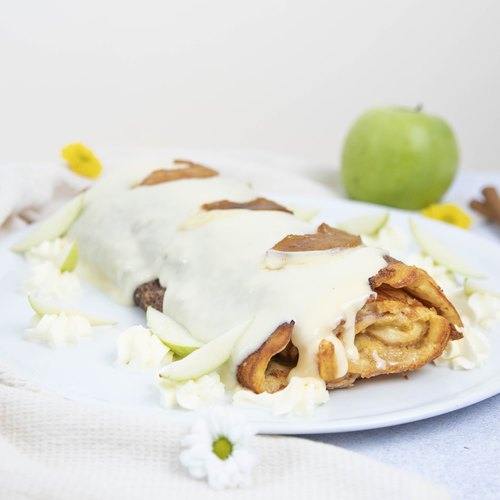 ---
Total time: 1 hour 5 minutes
Prep time: 30 minutes, Cook time: 35 minutes
Ingredients for 6 people
1 3/4 cups of flour
1 1/4 tbsp of baking powder
salt
2 tbsp of sugar
1 1/3 cups of milk
2 eggs
3 green apples
11 oz of hard caramels
1 3/4 cup + 2 tbsp butter
1 1/4 tbsp of cinnamon
1 cup of brown sugar
1/2 cup of cream cheese
1 2/3 cups of powdered sugar
1/4 tsp of vanila extract
lemon juice
---
Tools
Parchment paper
Baking sheets
---
Step 1/4
Prepare the pancake batter by mixing the flour, baking powder, 1/2 tsp salt, sugar, milk, 2 tbsp melted butter, and lastly the eggs. Divide the batter between two non stick baking sheets and bake in the oven for 10 minutes at 350 °F. Remove from oven and let cool.
Step 2/4
Peel the apples, remove the cores, slice them in half, and place face down on a baking sheet. In a frying pan, melt the caramels with 1/2 cup butter until a sauce has formed. Pour the caramel over the apples and bake for 20 minutes at 350 °F.
Step 3/4
Prepare the cinnamon roll filling by mixing the cinnamon, 1 cup softened butter, and brown sugar. Remove the pancakes from the pans, place on parchment paper, and spread the cinnamon roll filling evenly over the two cakes. Add the caramelized apples to the far end of one of the cakes in a straight line. Roll the first cake around the apples, then add the roll to the second cake to create one large roll. Place on a baking sheet and bake 5 minutes at 350 °F.
Step 4/4
Prepare the frosting by mixing the cream cheese, 1/4 cup softened butter, powdered sugar, vanilla extract, and a pinch of salt. Then add lemon juice until desired texture is reached. Smash the remaining caramel from the apples into small chunks. Pour the frosting over the cake roll, decorate with caramel crumbles, and enjoy!