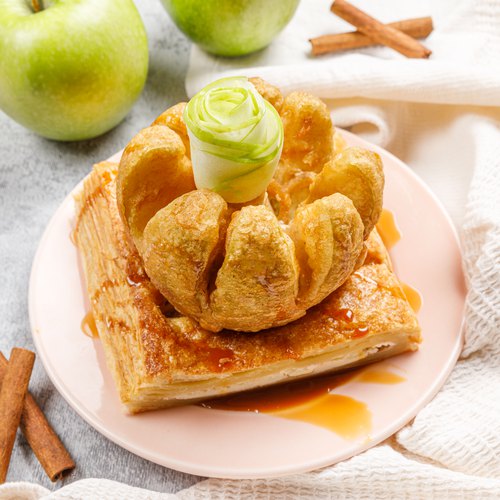 Cinnamon Apple Slab
A puff pastry dream 😍🍏🥐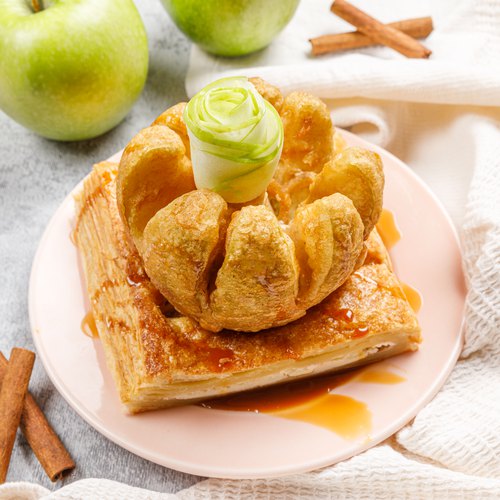 ---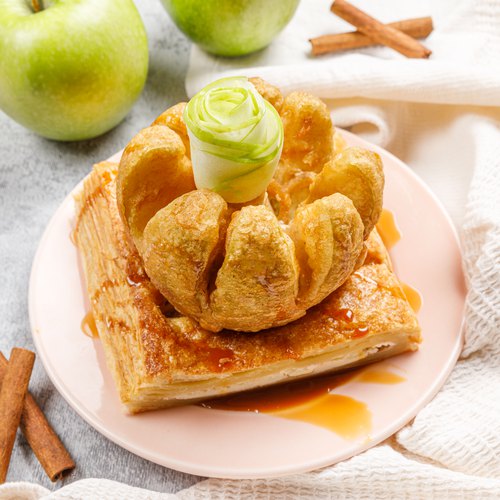 ---
Total time: 1 hour
Prep time: 30 minutes, Cook time: 30 minutes
Ingredients for 4 people
1 sheet of puff pastry
10 oz of cream cheese softened
1/4 cup of sugar
1/2 tsp 2
12 oz of hard cider
1 1/2 cups of flour
5 apples
sunflower oil
1 tbsp of lemon juice
caramel sauce
---
Tools
Parchment paper
Skewers
Plastic sheet
Apple cutter
Melon baller
Vegetable peeler
Pastry brush
Paper towels
---
Step 1/4
Add the cream cheese to one half of the puff pastry triangle, cover with a plastic sheet, and press down with a baking dish to spread out. Mix 1 1/2 tsp cinnamon and the sugar together in a small bowl and sprinkle over the cream cheese to taste. Next, make cuts down the opposite side of the pastry 1 inch a part and fold this half over the cream cheese half (see video). Brush with beaten eggs and bake in the oven for 18-20 minutes at 350 °F.
Step 2/4
Mix the cider, flour, and 1 tsp cinnamon in a large bowl and whisk until combined. Cut 4 of the apples with the apple cutter about 3/4 of the way to the bottom. Remove half of the core with the melon baller, then place a skewer down the center. Dip the apple in the batter, evenly coat all sides, and deep fry in oil at 350 °F. Once golden and crisp, remove the apple from the oil to drain on paper towels. You can keep the apples warm in the oven as you complete the following steps.
Step 3/4
For the apple roses: prepare a bowl of water with lemon juice. Cut the remaining apple in half and carefully use a vegetable peeler to cut thin ribbons from the apple. Soak in the lemon water. After, drain the water, pat dry, and form the roses by rolling up the slices until you've made a rose. Make 4 roses.
Step 4/4
Cut the puff pastry into 4 slices, then place a fried apple on top of each one. Drizzle with caramel sauce and garnish with the apple roses. Enjoy!