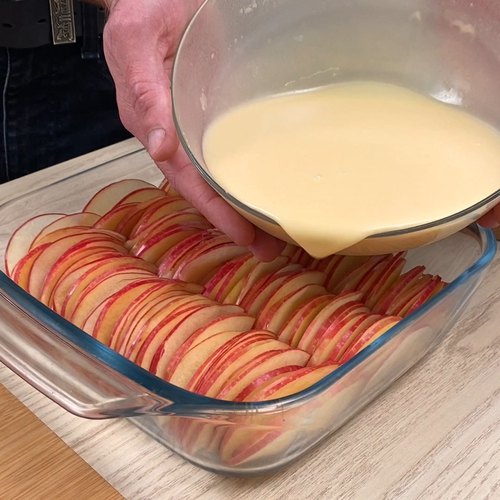 Disappearing Apple Pie
So delicious, it will leave you wondering where it all went! 🤩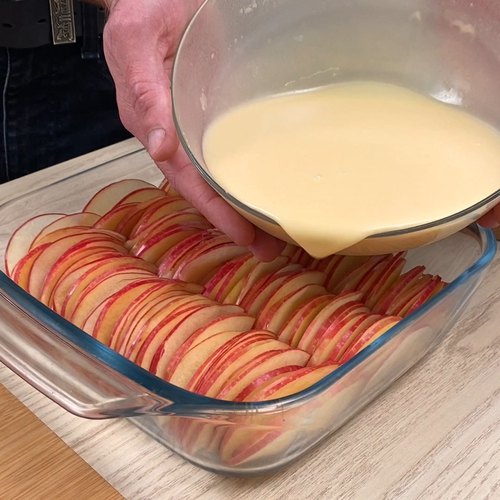 ---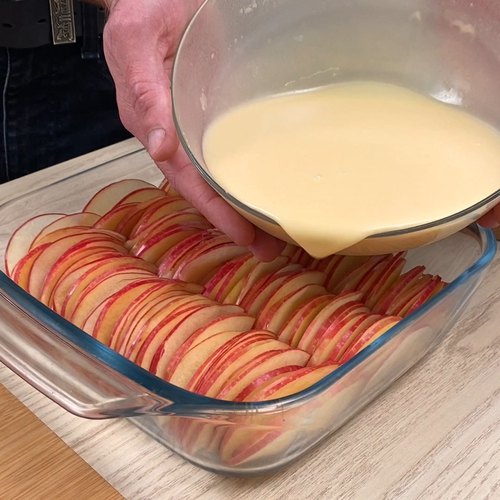 ---
Ingredients for 6 people
6 apples
3 cups of sugar, divided
4 eggs
3 tbsp of melted butter
1 cup of milk
1 tbsp of vanilla extract
1 cup of flour
1 pinch of salt
2 tsp of baking powder
6 scoops of vanilla ice cream
---
Tools
Square baking dish
---
Step 1/3
Carefully cut out small triangular pieces from the tops of the apple to make an eight pointed star as seen in the video. Then cut off the top inch of the apple with the star pattern and remove small triangles from the bottom of the star slice following the same pattern. In a sauce pan heat 2 1/2 cups sugar to make a caramel, adding the sugar in a 1/2 cup at a time. Once the sugar is a nice amber color, add in 1 cup of boiling water. Remove from heat and let cool. Once cooled, coat the 6 apple stars with the caramel.
Step 2/3
Remove the cores of the remaining apple bottoms. Then slice the apples into very thin discs and cut them in half. Stack the slices in a square baking dish until the dish is full. In a bowl mix 1/2 cup sugar, eggs, melted butter, milk, and vanilla extract. Then mix in the flour, salt, and baking powder. Pour the batter over the sliced apples and bake for 45 minutes at 350 °F.
Step 3/3
Remove the cake from the oven, flip onto a serving plate, and cover with 6 scoops of vanilla ice cream. Place the caramel apple stars on top of the ice cream scoops and drizzle with the remaining caramel. Serve and enjoy!