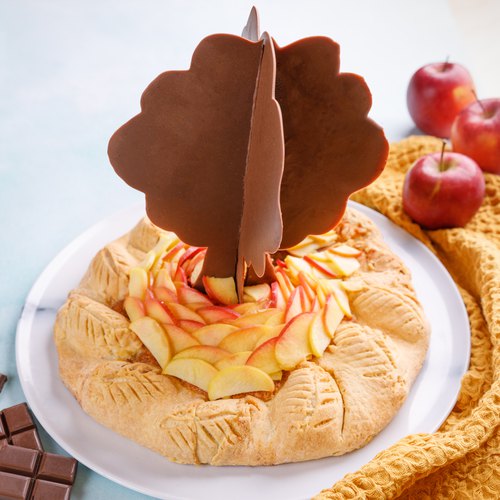 Apple Tree Pie
It's apple picking season🍎🌳🥧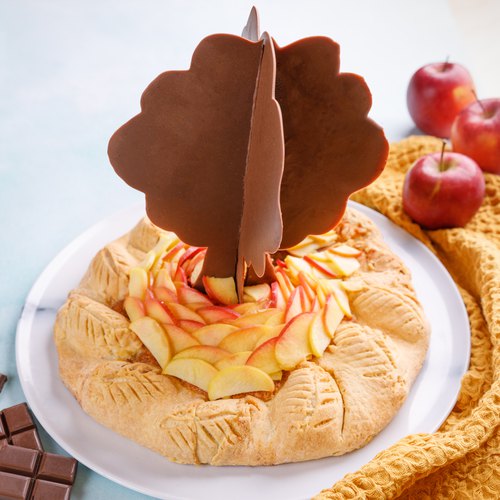 ---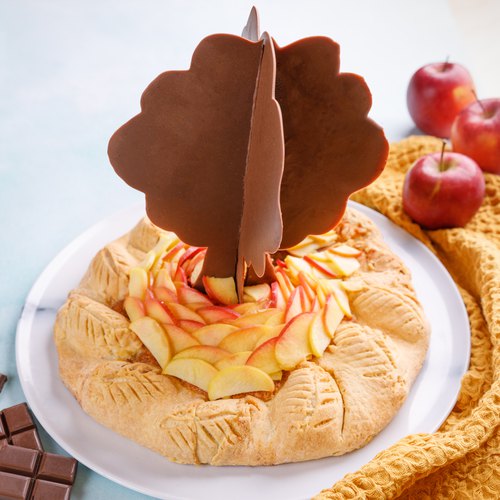 ---
Total time: 1 hour 25 minutes
Prep time: 30 minutes, Cook time: 25 minutes, Rest time: 30 minutes
Ingredients for 6 people
2 cups of flour
2/3 cup of butter
1/2 cup of sugar
2 eggs
1/3 cup of almond flour
1/4 cup of powdered sugar
2/3 cup of milk chocolate
10 apples
salt
1 tsp of vanilla extract
---
Tools
Plastic sleeves
Skewers
Apple slicer
---
Step 1/5
For the shortbread dough: Mix the flour, 1/2 cup of butter cut into pieces, 1/4 cup sugar, a pinch of salt, and 3 1/3 tbsp water until you get a homogeneous dough. Then add the 1 egg yolk and mix again. Let it rest for 1 hour, then roll out the shortbread dough.
Step 2/5
For the almond cream filling: Mix the almond flour, 1 egg, the rest of the butter, and the powdered sugar until you get a smooth cream.
Step 3/5
Draw a tree on a sheet of paper like the one in the video, then place the drawing in a plastic sleeve. Melt the milk chocolate, then pour some of it onto the plastic sleeve in the center of the tree. Cut an apple in half, then use one half to form the top of the tree with the chocolate and form the trunk by spreading the chocolate with a spoon. Repeat the action a second time, then set the two trees in the fridge for 30 minutes.
Step 4/5
Stick skewers into an apple at 1 cm intervals. Cut the apple into wedges with the skewers using an apple slicer. Repeat until you have 10 apple wedges. Dip each wedge in the remaining melted milk chocolate and arrange around the edge of the shortcrust pastry. Fold the pastry over the wedges and create a leaf pattern on top of each one as seen in the video. Spread the almond cream in the center of the pie and bake for 25 minutes at 350 °F.
Step 5/5
Cut the remaining apples into very thin strips, then cook them in water with 1/4 cup sugar and the vanilla extract. Place one of the chocolate trees vertically in the center of the baked pie. Cut the other chocolate tree in half and place the two halves on either side of the whole tree (see video). Layer the boiled apple slices on top of the pie vertically from the center all the way out to the crust. Enjoy!