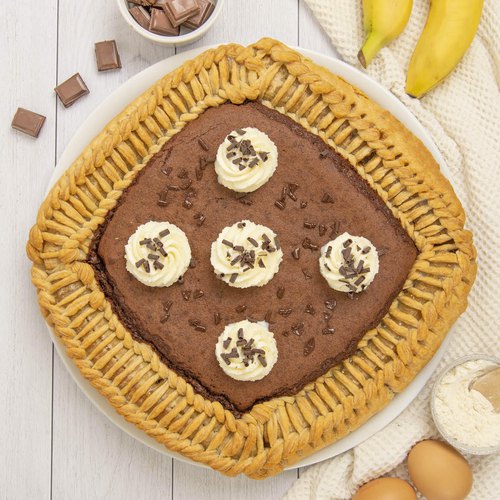 Banana Chocolate Brownie
Chocolate in the middle with a banana crust 😍🍌🍫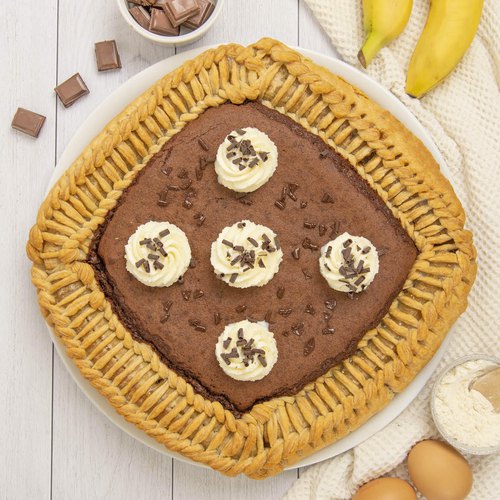 ---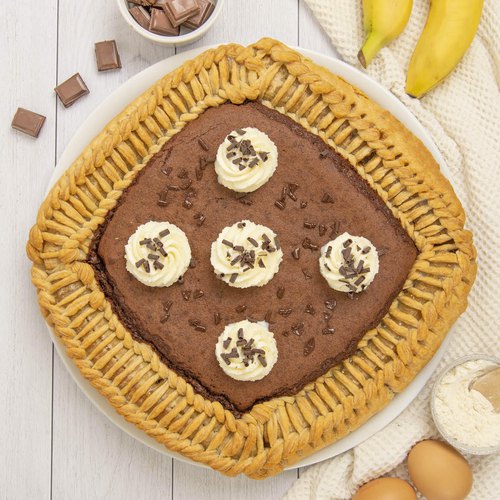 ---
Ingredients for 6 people
4 bananas
1 puff pastry sheet
4 eggs
2/3 cup of sugar
1 2/3 tsp of vanilla sugar
1 stick butter
1 cup of dark chocolate
2 tsp of baking powder
3/4 cup of flour
3 tbsp of mascarpone
4/5 cup of heavy cream
1/4 cup of powdered sugar
chocolate shavings
pinch of salt
---
Tools
Rolling pin
Piping bag
---
Step 1/4
Form a square with rounded edges by assembling the bananas end to end and cutting off the ends. Place on top of the puff pastry, pressing down well to make an impression. Peel the bananas and set them aside. Make cuts in the puff pastry along the banana impression, spacing 1/2 centimeter apart. Loosen the pieces by pulling on them and then form a braid by passing each piece over and then under the next.
Step 2/4
Flatten the edges of the pastry with a rolling pin, place the square of bananas on a baking sheet lined with parchment paper, and place the pastry on top of the bananas, making sure the braid aligns with the bananas. Tuck the edges under the bananas to close the pie, then flatten the center and prick with a fork.
Step 3/4
In a bowl, mix the eggs, sugar, vanilla sugar and add the melted butter and dark chocolate. Mix in the baking powder, salt, and flour, pour the mixture into the pie, and bake for 25 minutes at 350 °F.
Step 4/4
Whip the mascarpone, heavy cream, and powdered sugar and decorate the tart with a piping bag. Sprinkle with chocolate shavings, serve, and enjoy!