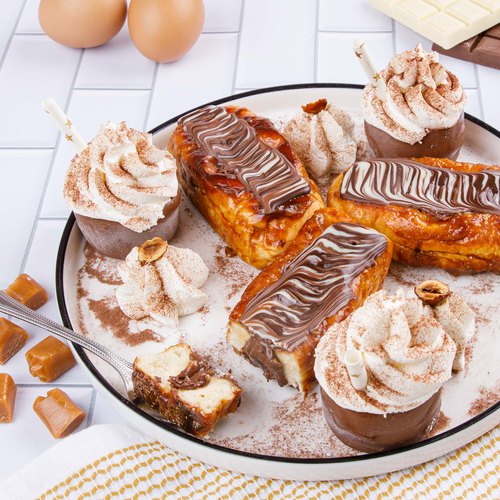 Childhood Snack
Childhood Snack! This treat is a delicious blast from the past 😋🍫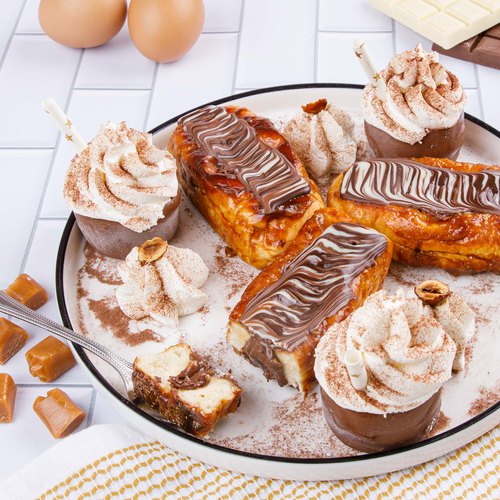 ---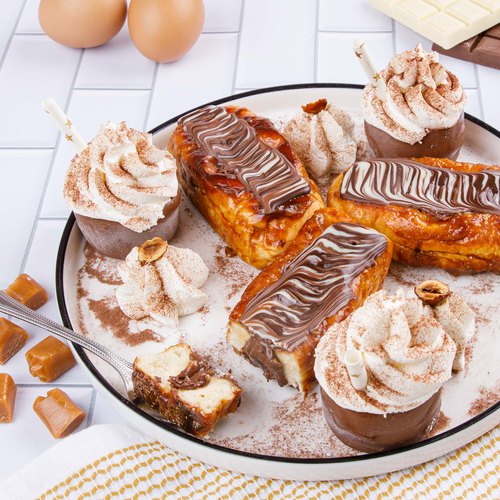 ---
Total time: 50 minutes
Prep time: 45 minutes, Rest time: 5 minutes
Ingredients for 3 people
2 tbsp of butter
2 tbsp of brown sugar
3 milk breads
0.7 cup of milk
1/2 cup of chantilly cream
2 egg
3 tbsp of chocolate hazelnut spread
1 oz of white chocolate
8 oz of milk chocolate
1 oz of dark chocolate
1 tsp of powdered sugar
3 1/2 tbsp of mascarpone
0.4 cup of heavy cream
3 tbsp of cocoa powder
---
Tools
Wine corks
Aluminium foil
Cling wrap
Piping bag
Rolling pin or metal rod
---
Step 1/4
Cut the butter into 3 pieces, sprinkle the butter with brown sugar. Wrap the cork in aluminum foil, make an incision in the center of the milk rolls and place the aluminum cork inside. Mix ½ cup of milk, the chantilly cream, the eggs to obtain a French toast mixture. Pour the French toast mixture over the milk breads.
Step 2/4
Butter the plancha with the pieces of butter sprinkled with brown sugar. Cook each side of the milk breads. Remove the aluminum cap from the center of the milk breads, place the chocolate spread in the space in the center of the milk bread. Melt the white chocolate, 1 oz of milk chocolate and the dark chocolate. Place 1 rectangle of paper on each side of the milk breads, pour the white chocolate by forming lines on the milk breads, repeat the action with the milk chocolate and dark chocolate. Remove the paper rectangles, one up, the other down to obtain a zebra chocolate pattern and set the milk rolls aside. Refrigerate for 5 minutes to let the chocolate set.
Step 3/4
Melt the rest of the milk chocolate. Wrap the end of a rolling pin in cling wrap. Dip the end of the wrapped roll in the melted milk chocolate, dip it in cold water to set the chocolate. Repeat the process to have 3 chocolate cups. Whip the icing sugar, mascarpone and heavy cream, place in a piping bag and set aside.
Step 4/4
Mix the rest of the cold milk with the cocoa powder. Pour it into the milk chocolate cups. Pipe a spiral of whipped cream on top of the cups. Sprinkle them with the rest of the cocoa powder. Place the milk chocolate cups on a plate with the milk breads. Serve and enjoy!