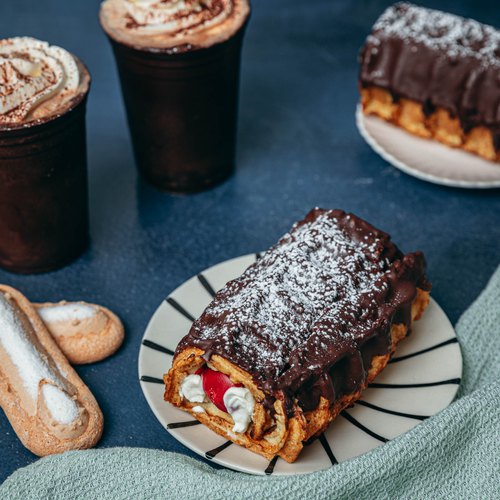 Waffle Tiramisu & Rum Cocktail
Waffle Tiramisu & Rum Cocktail! Get ready to rumble with this recipe 🧇🍹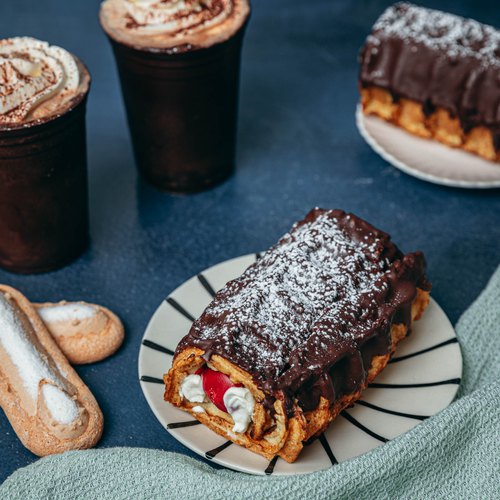 ---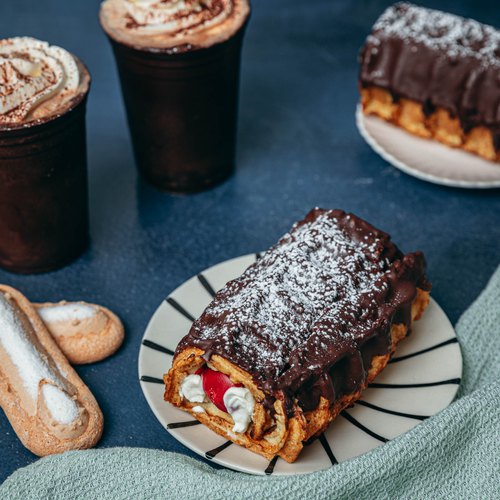 ---
Total time: 45 minutes
Prep time: 10 minutes, Cook time: 5 minutes, Rest time: 30 minutes
Ingredients for 3 people
1 cup of rum
1 1/2 cups of heavy cream
1 cup of milk
1/2 cup of whipped cream
2 cups of ice cubes
24 chocolate lindt balls
1/2 cup of cocoa powder
3 cups of red white chocolate
3 tbsp of butter
5 cups of coffee
24 ladyfingers
3 cups of cream cheese & mascarpone
1/2 cup of pecans
5 gelatin sheets
3 cups of dark chocolate
---
Tools
Waffle maker
Solo cups
Skewers
Plastic sheet protector
---
Step 1/5
Place a single skewer through 3 individual solo cups. On each skewer place 4 lindt chocolate truffles. Place each kabob on a drying grate. Pour melted red white chocolate over the truffles. Allow to set and set aside.
Step 2/5
Melt butter on the waffle iron. Place 8 lady fingers on the griddle and pour hot coffee on top and close the griddle. Wait 2 and a half minutes and remove. Place a truffle kabob on top of the waffle and pipe mascarpone cream cheese filling on top, sprinkle with chopped pecans and roll the waffle up.
Step 3/5
Add the rum to pot. Add heavy cream, cocoa powder and bloomed gelatin. Then add chocolate and whisk everything together until combined. Pour on a long plate, long enough to roll the waffle in it. Roll each waffle half way and set on a rack to dry. Carefully remove the skewers.
Step 4/5
Pour melted dark chocolate into one solo cup and pour the excess in the next. Make sure the sides are coated. Set in the freezer until set. On a plastic sheet protector pipe 3 medium sized C's for the handles of the cups. Set in the freezer. Pull the cups out of the freezer and unmold. Take the C's out of the freezer. Use circular motions on the bottom of a hot pot to flatten the tops of the cups. Use the same method with the C's and heat to meld the handles to the chocolate cups.
Step 5/5
Place 9 truffles at the bottom of a pitcher. Add hot coffee to melt the chocolates. In a second pitcher add ice and pour milk over it. Pour the chocolate coffee mixture over that and use a spoon to mix everything together. Pour the drink into each cup, top with whipped cream and dust with cocoa powder on top. Serve the waffles with the cups and enjoy!