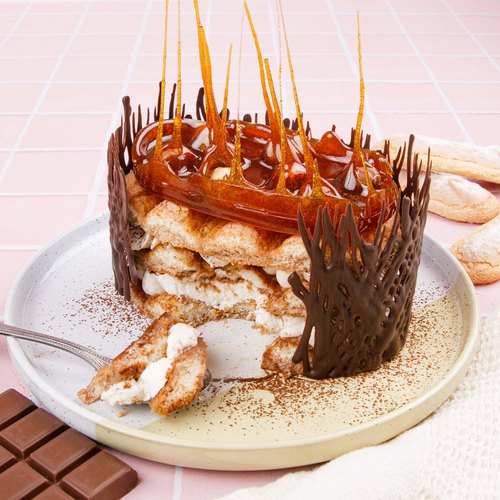 Tiramisu Charlotte Tower
Tiramisu Charlotte Tower! Can you devour all layers?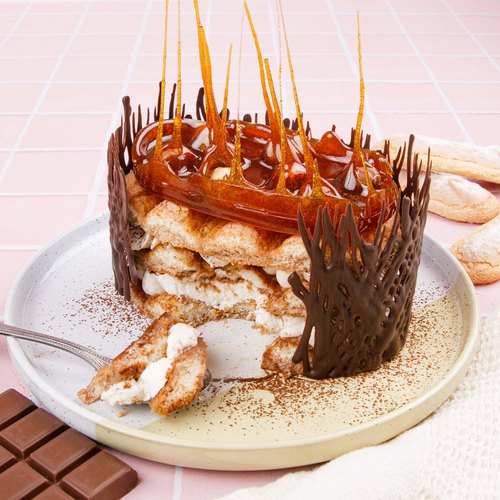 ---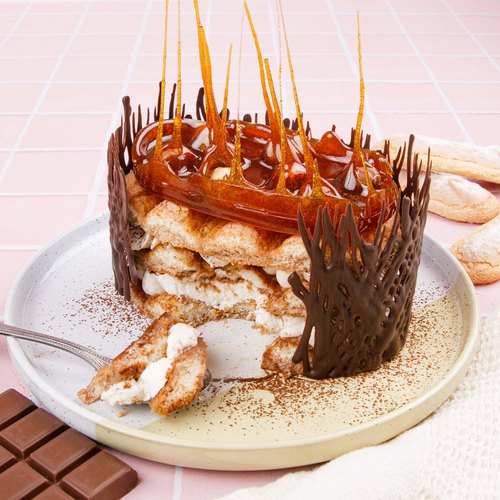 ---
Total time: 1 hour 10 minutes
Prep time: 40 minutes, Rest time: 30 minutes
Ingredients for 2 people
9 ladyfingers
3/5 cup of milk
0.4 cup of heavy cream
2 oz of mascarpone
8 hazelnuts
3 1/2 oz of dark chocolate
3/4 cup of sugar
Cocoa powder
---
Tools
Rolling pin or metal rod
Cacao box
parchment paper
liquor spout
---
Step 1/4
Pour half of the cocoa powder into a bowl and create a hole on one of the sides of the box to insert a liquor spout. Heat the milk and add it to the cocoa in the box, mixing everything together. Place the ladyfingers side by side on a plate, pour the chocolate milk on top to soak them and sprinkle with cocoa powder. Cut 3 ladyfingers with the cocoa box lid and place it in a separate plate. Whip the mascarpone and heavy cream into whipped cream, place it in a piping bag, cut the end, and pipe cream onto the biscuit lid. Sprinkle cocoa powder on top of the cream and cover with additional ladyfingers, repeating the process to create a second layer.
Step 2/4
Heat the sugar in a saucepan to make caramel. Pour half of the caramel into the lid of the cocoa powder box and place the hazelnuts on top. Cover the hazelnuts with the remaining caramel, then turn the lid upside down over the saucepan to form spikes and unmold the caramel decoration from the lid.
Step 3/4
Cut a strip of parchment paper, wrap it around the Chefclub rolling pin, and add an elastic band to each end to hold it in place. Place the rolling pin on a baking sheet. Melt the dark chocolate, create the chocolate decoration with a fork on the parchment paper, remove it from the Chefclub rolling pin, and wrap it around the cocoa box. Refrigerate to set.
Step 4/4
Unmold the chocolate decoration, place it around the tiramisu, and add the caramel decoration on top. Serve and enjoy!