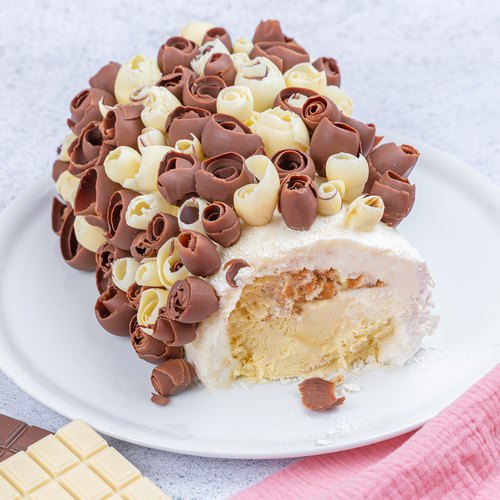 Frozen Tiramisu Bouquet
Frozen Tiramisu Bouquet! Who needs flowers when you can have dessert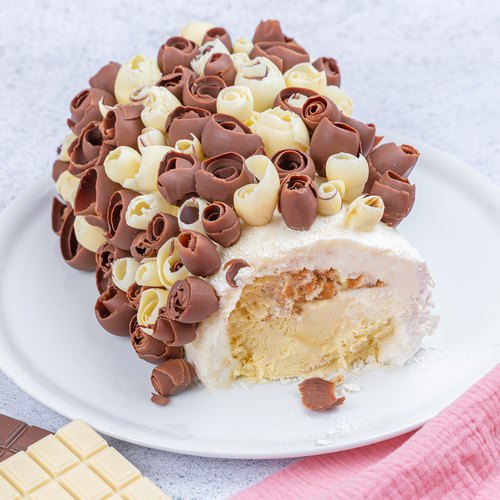 ---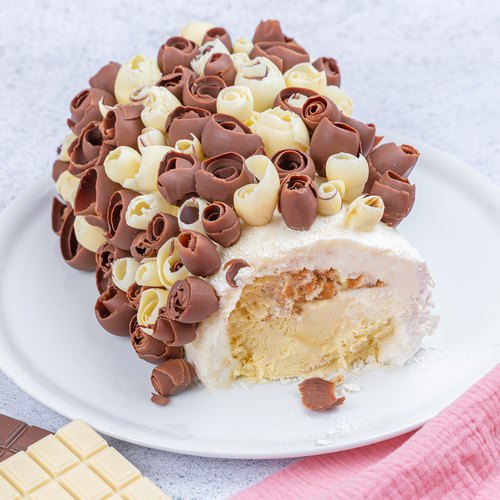 ---
Total time: 50 minutes
Prep time: 25 minutes, Rest time: 25 minutes
Ingredients for 6 people
20 ladyfingers
3 cups of coffee
1 pint of vanilla ice cream
4 1/2 oz of dark chocolate
3 1/2 oz of white chocolate
3 1/2 oz of mascarpone
1/2 cup of heavy cream
2 tbsp of sugar
---
Tools
Small round cookie cutter
parchment paper
Piping bag
---
Step 1/3
Begin by arranging 10 ladyfingers in a line on a strip of parchment paper. Dip them in coffee and set them aside. Remove the packaging from the ice cream and flip it over. Pour 1 oz of melted dark chocolate over the ice cream, then wrap the ladyfingers around the ice cream and carefully remove the parchment paper.
Step 2/3
Whisk the mascarpone, heavy cream, and sugar until smooth.Place the mixture in a piping bag and pipe it between each ladyfinger. Dip the remaining 10 ladyfingers in coffee and roll them around the cake. Pipe whipped cream on the sides and top of the cake, then smooth it all over to cover it completely. Refrigerate to set.
Step 3/3
Melt the remaining dark and white chocolate and pour each onto one side of a baking sheet. Mix the two chocolates together using a spatula then chill for 15 minutes. Use a round cookie cutter to make chocolate shaving flowers. Place the shavings in the freezer for 10 minutes then arrange them around the cake and enjoy!