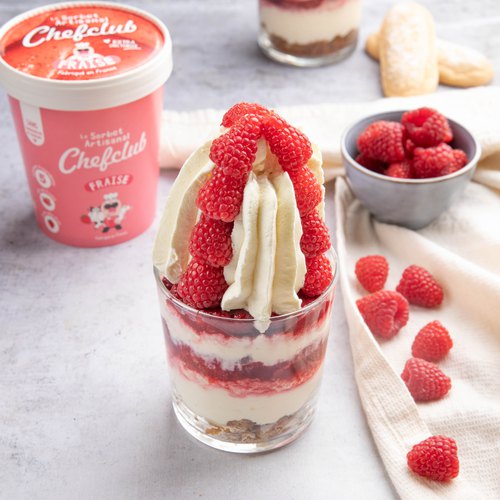 Iced Berry Tiramisu
Iced Berry Tiramisu! Creamy, berry, and oh so fresh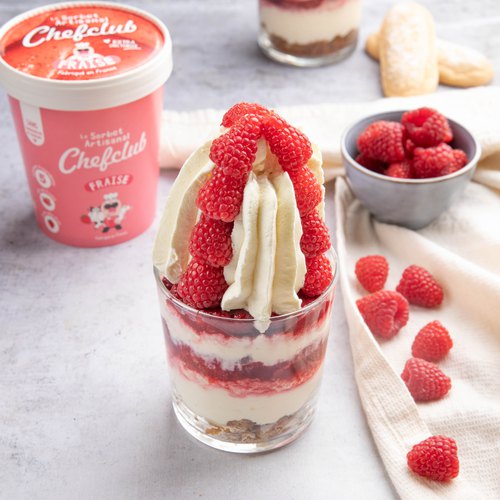 ---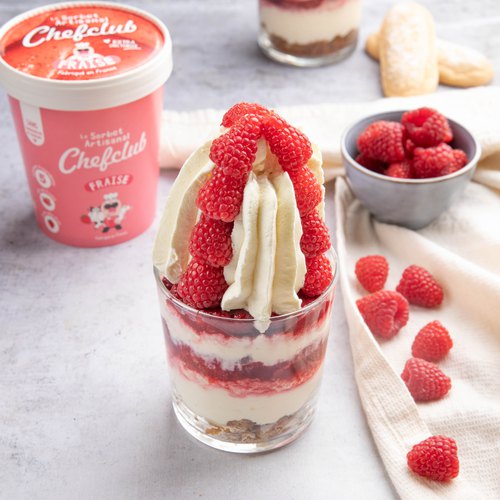 ---
Total time: 3 hours 35 minutes
Prep time: 35 minutes, Rest time: 3 hours
Ingredients for 3 people
1 pint of strawberry ice cream
20 raspberries
9 oz of mascarpone
2.1 cups of heavy cream
6 tbsp of powdered sugar
1 vanilla bean
20 ladyfingers
20 tbsp of berry coulis
10 speculoos cookies
3 tbsp of butter
Whipped cream
---
Tools
Cling wrap
Electric hand mixer
Piping bag
---
Step 1/5
Take off the lid of the ice cream container, heat up a knife and use it to unmold the ice cream completely. Divide the ice cream block into 3 equal parts. Put each piece on a sheet of plastic wrap and form them into logs by tightly wrapping them in the plastic. Freeze them for 3 hours.
Step 2/5
Cut 20 raspberries in half. Unwrap the ice cream logs and place them on a clean sheet of plastic wrap. Stick 4 raspberry halves on 3 sides of each log, then wrap the plastic wrap tightly around the log without squishing it. Repeat the process with the other logs and place them back in the freezer.
Step 3/5
Using an electric mixer, beat together the mascarpone cream, vanilla pod seeds, heavy cream, and powdered sugar until well whipped. Halve the ladyfingers and arrange them at the bottom of a dish, then pour the red fruit coulis over them, making sure to soak the biscuits well. Crush the speculoos cookies and melt the butter, then mix the two together.
Step 4/5
Garnish the bottom of the glasses with the preparation, add a layer of mascarpone cream and spread it. Add 4 pieces of ladyfingers on the edges, and pour a little coulis in the center. Repeat the layering process a second time and refrigerate for 1 hour.
Step 5/5
Unmold the ice cream logs and insert them into the center of each glass. Using a piping bag, draw three lines of whipped cream around the ice cream and top each line with half a raspberry. Serve and enjoy!