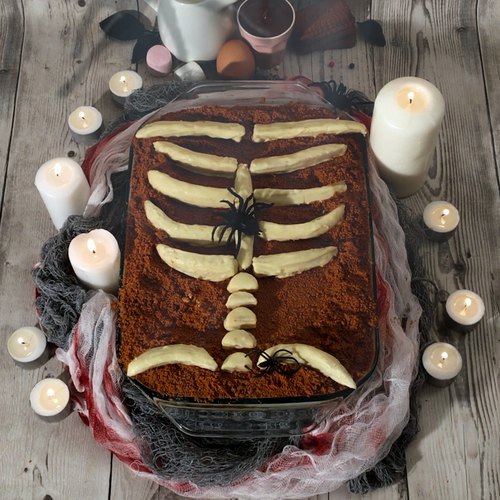 Spine-tingling Skeleton Dessert
Mom, there are bones in my pie! 💀🍌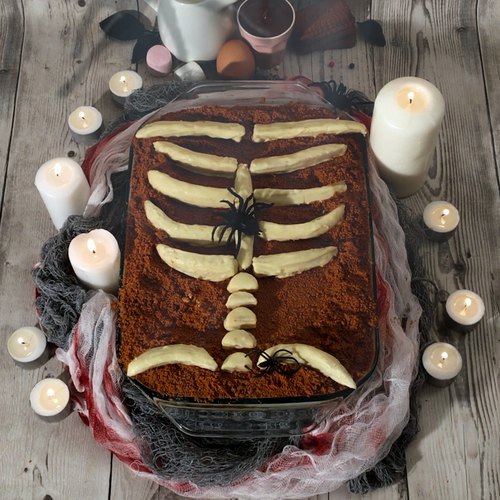 ---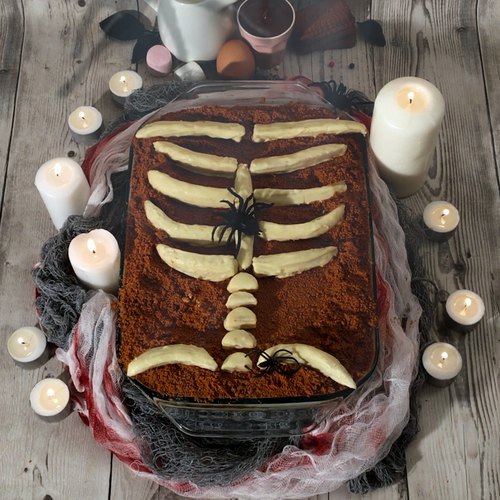 ---
Ingredients for 4 people
3 cans of sweeten condensed milk
16 oz of biscoff cookies
1/4 cup of brown sugar
1/2 cup of butter
10 bananas
3 cups of heavy whipping cream
2/3 cup of powdered sugar
vanilla bean
melted white chocolate
---
Step 1/4
Place the 3 closed cans of sweetened condensed milk in a saucepan full of water. Cover and boil for 1 hour and 30 minutes. Remove from the water and open the cans.
Step 2/4
Crush the Biscoff cookies into a powder, then mix with the brown sugar and melted butter. Spread half this mixture in the baking dish. Cut 8 bananas into slices. Arrange 1 row of slices around the edge of the dish and a layer on top of the cookies crumbs. Pour the canned sweetened condensed milk on top.
Step 3/4
Whip up the heavy whipping cream with the powdered sugar and vanilla beans, then spread the whipped cream in the dish on top of the bananas. Cover with the remaining crushed cookies.
Step 4/4
Cut the 2 remaining bananas in 2 lengthwise, then 3 of these halves in 4 (lengthwise and widthwise). Cut the last half into 2 in widthwise. Cut one of these halves into slices. Brush all the banana pieces with melted white chocolate. Arrange these pieces on the dish to form a skeleton! Enjoy!