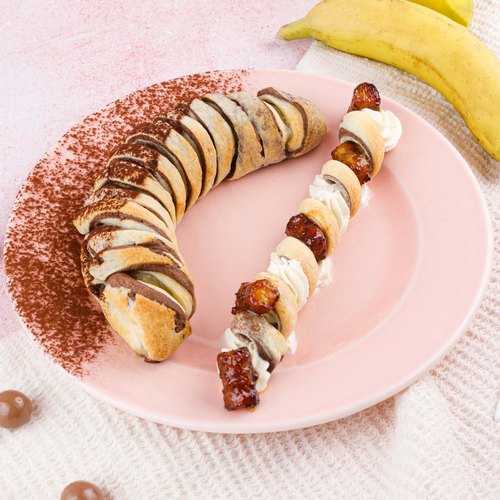 Banana & Chocolate Surprise
Banana & Chocolate Surprise! A shocking dessert just for you 🍫🍌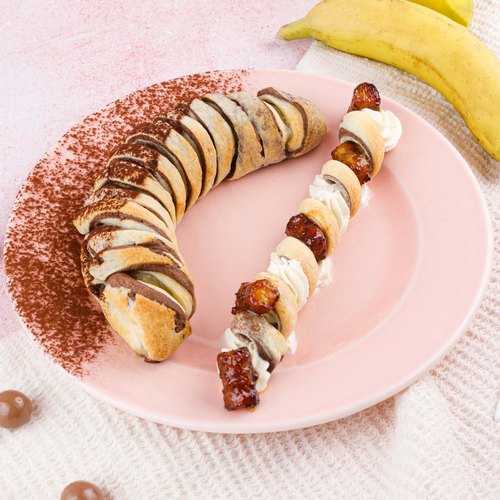 ---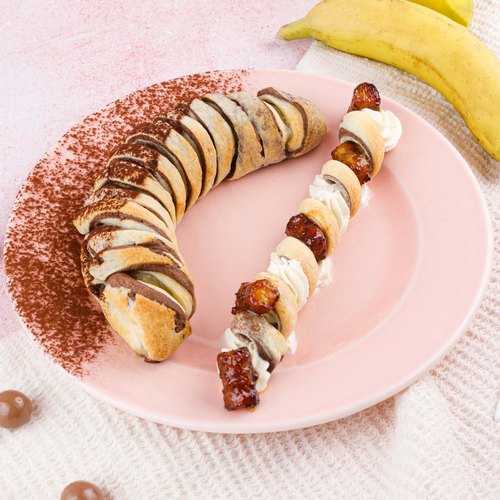 ---
Total time: 1 hour 50 minutes
Prep time: 40 minutes, Cook time: 40 minutes, Rest time: 30 minutes
Ingredients for 3 people
1 3/5 cups of flour
Salt
1 1/4 cups of butter
0.3 cup of water
5 tbsp of cocoa powder
3 bananas
12 chocolate candy balls
3 puff pastries
2 1/2 tbsp of brown sugar
3 1/2 oz of mascarpone
2 1/2 tbsp of powdered sugar
4/5 cup of milk
---
Tools
Apple corer
Pizza cutter
Piping bag
---
Step 1/4
Mix the flour, salt, sugar and 1 cup of cold butter cut into small pieces, add water and mix until it forms a ball. Sprinkle with 3 tbsp of cocoa powder and mix again. Divide the dough into 4 parts and refrigerate for 30 minutes.
Step 2/4
Peel a banana, make several holes on the surface with an apple corer, reserve the removed pieces, place chocolate candy balls in the remaining cavities and arrange the banana on the tip of a puff pastry. Cut the dough into strips and wrap around the banana. Repeat the process 3 times, arrange on a baking sheet and bake for 25 minutes at 350°F.
Step 3/4
Cut the rest of the chocolate puff pastry into strips using a pizza cutter. Grease the handle of a wooden spoon and wrap a strip around it. Repeat the process twice and bake for 15 minutes at 350°F to make spirals. Sprinkle the rest of the butter with brown sugar, place in a hot pan to melt, add the reserved banana pieces and cook to caramelize them.
Step 4/4
Beat the mascarpone, powdered sugar, heavy cream and place in a piping bag. Place the puff pastry bananas and the spirals on a plate. Add whipped cream in the hollows of the spirals, place the caramelized bananas in the whipped cream, alternating with the chocolate candy balls. Serve and enjoy!