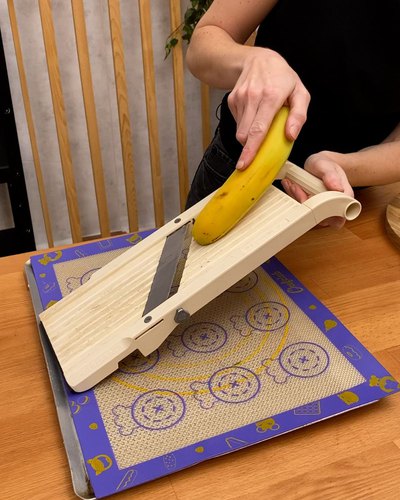 Flamin' French Toast
Flamin' French Toast! Go bananas for this breakfast recipe 😁🍌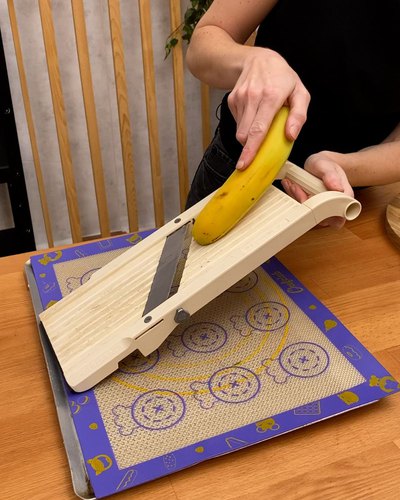 ---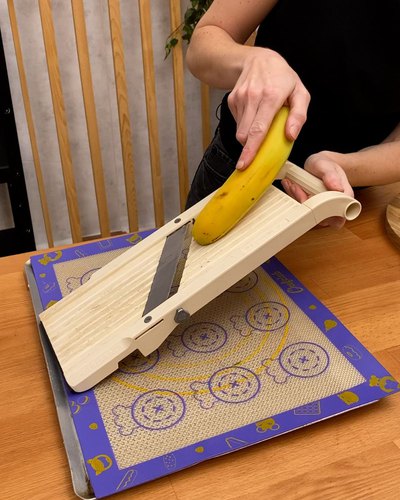 ---
Total time: 45 minutes
Cook time: 45 minutes
Ingredients for 1 person
5 slices of white bread
1 cup of milk
1/2 cup of heavy cream
1/2 tsp of cinnamon
1 tsp of vanilla extract
1/4 tsp of nutmeg
1/2 cup of sugar
1 pinch of salt
2 bananas
1/4 cup of rum
4 tbsp of butter
3 cinnamon sticks
1/2 cup of caramelized pecans
1 scoop of vanilla ice cream
---
Tools
Spray bottle
Chopstick
Mandolin
Chefclub baking mat
---
Step 1/4
Using the mandolin, make very thin slices of bananas and place them on a silicon baking mat. Bake at 350°F until the bananas have dried and are crispy. Set aside. In a medium bowl, stir together the cream, milk, nutmeg, cinnamon and vanilla. Pour into a clean spray bottle.
Step 2/4
Preheat the oven to 350˚F. Stack the five slices of sandwich bread together. Using a chopstick, press down across the middle of the bread and then repeat in the opposite direction. This should create 4 fanned corners. Spray the bread stack with the french toast mixture. Bake in the oven for 10 minutes or until the edges are lightly toasted. When the griddle is hot, sprinkle half of the sugar and allow to melt. When the sugar caramelizes add 2 tablespoons of butter and stir together. Caramelize the french toast stack on the griddle. Turn the french toast to cover all the sides in caramel. Set the french toast aside.
Step 3/4
In a medium skillet, melt the remaining sugar. When the sugar begins to caramelize, stir in the remaining butter. Add the remaining pieces of banana leftover from making the chips. Once the bananas have begun to caramelize, pour in the rum and light to flambé the bananas.
Step 4/4
Roll a large scoop of vanilla ice cream into the chopped caramelized pecans. Place the french toast on a plate. Add the caramelized bananas and top with the vanilla and pecan ice cream. Enjoy!