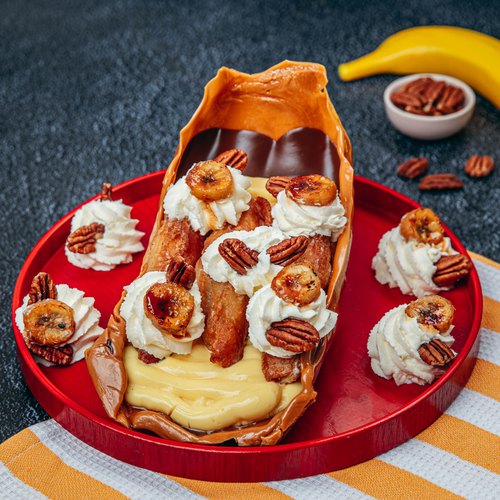 Bunch of Banana Beignets
Bunch of Banana Beignets! A peel good dessert 😍🍌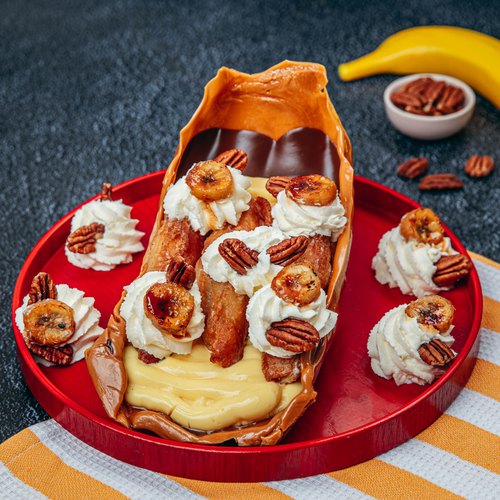 ---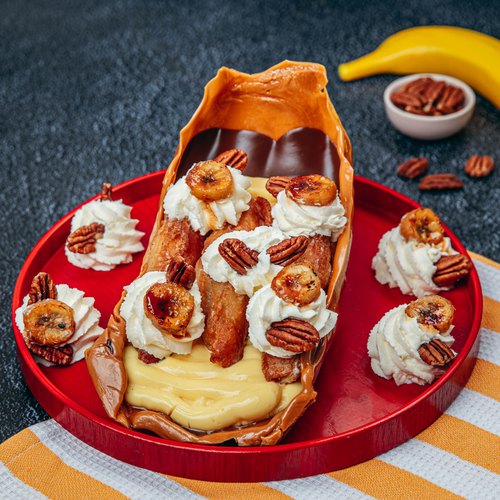 ---
Total time: 1 hour 30 minutes
Prep time: 45 minutes, Cook time: 15 minutes, Rest time: 30 minutes
Ingredients for 2 people
2 bananas
1 vanilla pudding
1 tbsp of butter
Milk chocolate
1 cup of donut batter
2 tbsp of rum
2 tbsp of pecans
Caramel
Brown sugar
Oil
---
Tools
Cling wrap
Skewers
---
Step 1/4
Take a bunch of bananas and butter them. Place on a plate and pour melted caramel over them. Allow to harden. Once set, pour melted chocolate to coat the inside of the caramel shell.
Step 2/4
Make an incision on the top of the banana skin to remove the insides (it will resemble a boat). Fill the cavity with beignet batter, skewer the banana skins together and fry in hot oil until golden brown.
Step 3/4
Cut the bananas into slices and flambé in a pan with rum. Set aside.
Step 4/4
Pipe the pudding in the caramel shells. Add the beignets and pipe whipped cream on top. Place the flambéed bananas and pecans. Serve and enjoy!