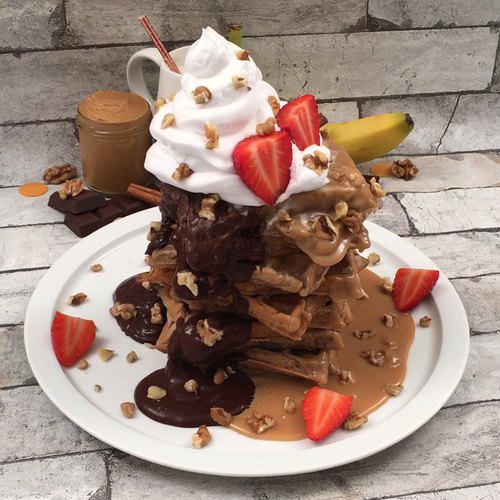 Waffled Banana Bread
Waffled Banana Bread! A new take on banana bread! Over-ripe nanners not required. 🍌🍌🍌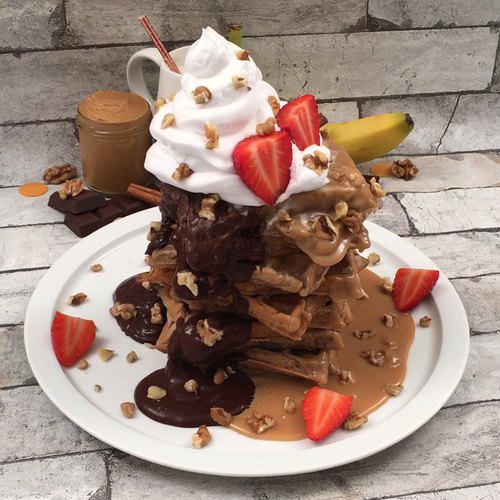 ---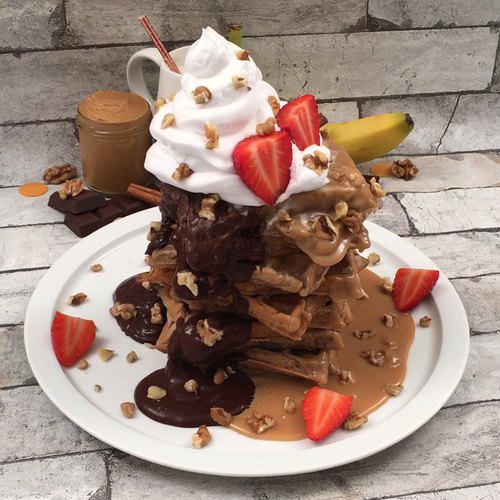 ---
Ingredients for 6 people
2 eggs
2 tbsp of sugar
1 cup of milk
1/3 cup of vegetable oil
1 1/2 tsp of baking powder
3 tsp of cinnamon
1 tsp of salt
bananas
1 cup of peanut butter
1 cup of condensed milk
1 tsp of vanilla extract
1 cup of water
2 tbsp of cocoa powder
2 tbsp of flour
a pinch of salt
whipped cream, for garnish
strawberries, for garnish
walnuts, for garnish
non-stick cooking spray, like pam (for greasing waffle iron)
---
Tools
Paper clips, washed and dryed
Waffle iron
---
Step 1/3
In a mixing bowl, combine the flour, baking powder, salt and cinnamon. Set aside. In another bowl, combine the milk, eggs, oil, vanilla and sugar. Whisk together. gradually add the dry ingredients and mix until combined. Using a large paper clip, make strips out of the peeled bananas, which should been firm and green. Fold the bananas into the waffle batter.
Step 2/3
Grease the waffle iron well and place 3 tablespoons of batter on each side of the waffle iron. Cook until golden brown. Repeat until all batter is used. Keep waffles warm in an oven set to warm. Make sauces.
Step 3/3
Make peanut butter sauce: In a saucepan, heat the peanut butter and condensed milk. Add water, vanilla and mix well. Cook until thickened. Make chocolate sauce: In a bowl, combine sugar, salt, cocoa powder and flour. Set aside. In a saucepan, heat the water and vanilla. Slowly add the dry mixture while whisking. Continue to whisk and cook for 6 minutes or until thick and smooth. Pour both the peanut butter sauce and chocolate sauce over the waffles and decorate with whipped cream, berries, and walnuts. Enjoy!