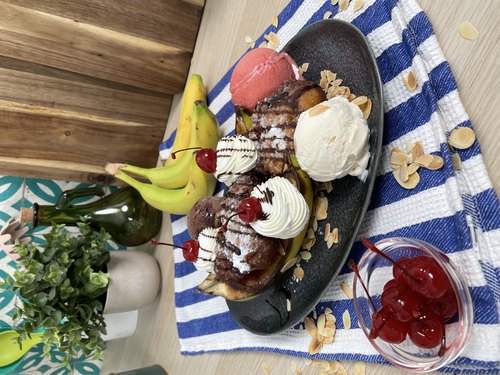 Banana Split Fritters
Banana Split Fritters! This split is bananas :)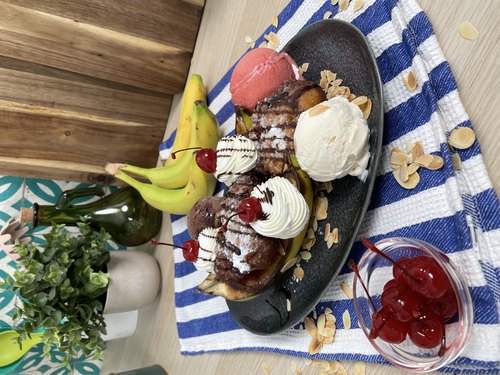 ---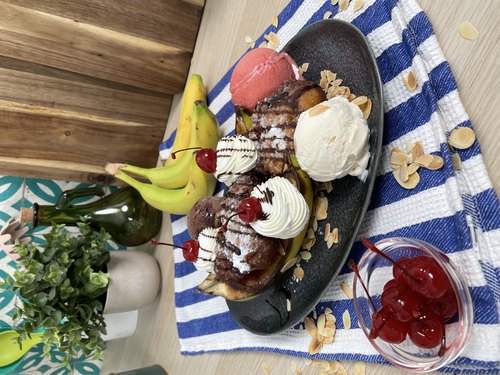 ---
Total time: 45 minutes
Prep time: 20 minutes, Cook time: 20 minutes, Rest time: 5 minutes
Ingredients for 2 people
1 cup of self-raising flour
1 tsp of salt
2 tsp of baking soda
1 tbsp of vanilla extract
2 eggs
0.7 cup of milk
4 bananas
1/4 cup of sugar
1 tsp of cinnamon
2 scoops of chefclub vanilla ice cream
2 scoops of strawberry ice cream
2 scoops of chefclub chocolate ice cream
1/2 cup of roasted sliced almonds
Hershey's chocolate syrup
Maraschino cherries
1 l of vegetable oil
---
Tools
Blowtorch
---
Step 1/4
In a bowl, add in the self raising flour, baking soda, salt, vanilla and eggs. Mix to combine. Add the milk and whisk until smooth. Allow batter to rest for 5 minutes. Heat the oil to 350°F.
Step 2/4
Take 2 bananas, peel them and cut in half lengthwise. Take each half and grate them. Sprinkle each portion of grated bananas with mini chocolate chips. Spread some of the batter onto a wide metal spatula. Top with a portion of grated banana and chocolate chips. Cover the banana with more batter. Using a small spatula, help slide the fritter off of the wide spaulta into the hot oil. Allow to cook until golden brown. Remove fritter from oil and place on paper towel to drain. Sprinkle with powdered sugar.
Step 3/4
Take two bananas and cut them in half lengthwise. Sprinkle each half with cinnamon and sugar. Using a blowtorch, caramelize the bananas.
Step 4/4
On a plate, place the 2 caramelized banana halves parallel to each other. Leave a space in between for the fritters. Add the fritters. Take the scoops of ice cream and roll them in the roasted sliced almonds. Place the 3 balls of ice cream around the fritters and bananas. Decorate with whipped cream, chocolate syrup and cherries. Repeat the process a second time. Serve and enjoy!