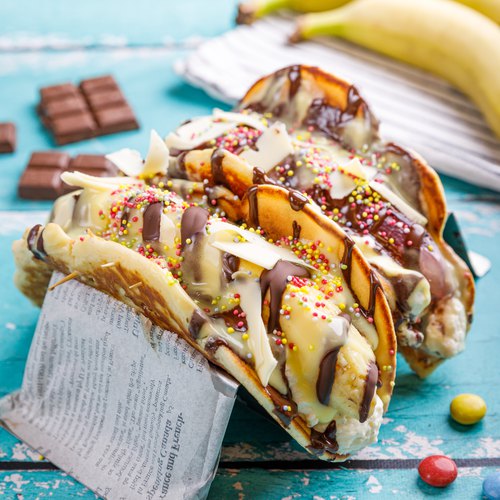 Creamy Banana Pudding Pancake
It's bananas! 🙂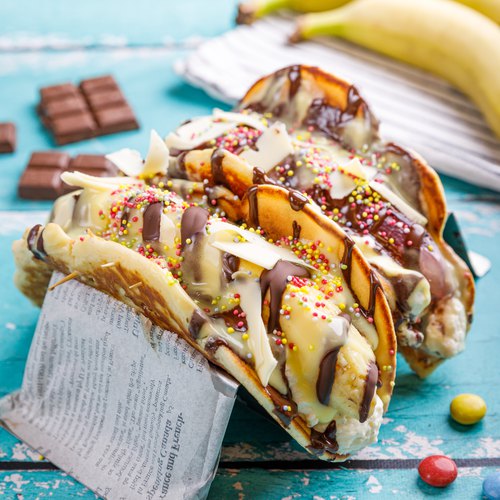 ---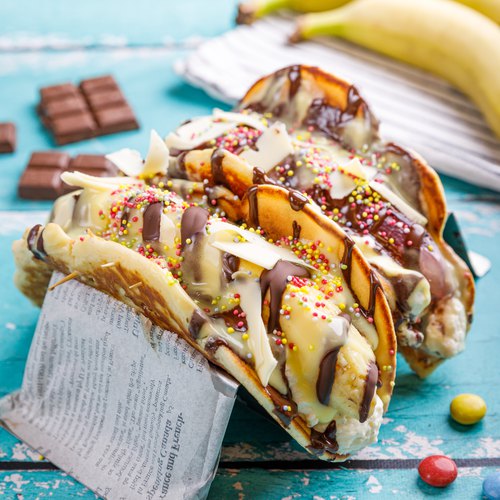 ---
Total time: 1 hour 2 minutes
Prep time: 35 minutes, Cook time: 12 minutes, Rest time: 15 minutes
Ingredients for 4 people
4 bananas
1 box of vanilla jello
1 box of strawberry jello
2 cups of milk
1 cup of flour
1 tsp of baking powder
pinch of salt
1/4 tsp of vanilla extract
1/4 cup of sugar
1 egg
2 cups of vanilla wafers
1 cup of melted dark chocolate
1 cup of whipped cream
white chocolate shavings
---
Tools
Grater
Taco holding stand
---
Step 1/3
Roast the bananas in the oven for 12 minutes at 350 °F. Remove from the oven, cut off one end, and carefully squeeze out the mashed banana, saving the peels intact for later. Next, mix the vanilla jello with 1 cup cold milk, mix, then add in 1 cup warm milk. Mix the strawberry jello with 1 cup cold water, then 1 cup hot water, and mix. Fill 2 of the banana peels with the strawberry jello, then the other 2 banana peels with the vanilla pudding (save any remaining vanilla jello for later). Place inside a large pot to help them sit upright, then place in the fridge for 15 minutes.
Step 2/3
Prepare the pancake batter by mixing the flour, baking powder, salt, vanilla extract, and sugar. Then mix in the egg. Set to the side. Grate the bananas, then add 1/4 of the grated bananas to an electric griddle over medium heat. Form a circle, then pour the pancake batter over the bananas and let cook until bubbles form. Flip the pancake and let the other side cook. After, place in a taco holding stand. Repeat 3 more times.
Step 3/3
Garnish each pancake taco with 6 vanilla wafers, followed by whipped cream. Remove the jello bananas from the fridge, take off the peels, and place the jello banana in the center of each taco. Add a splash of water to the remaining vanilla pudding to make a sauce. Drizzle the tacos with melted chocolate and the vanilla pudding sauce. Sprinkle with white chocolate shavings and enjoy!