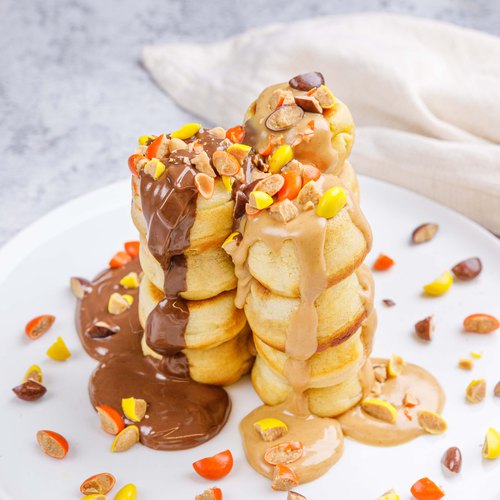 Mini-Pancake Stack Party
What's your favorite combo? :)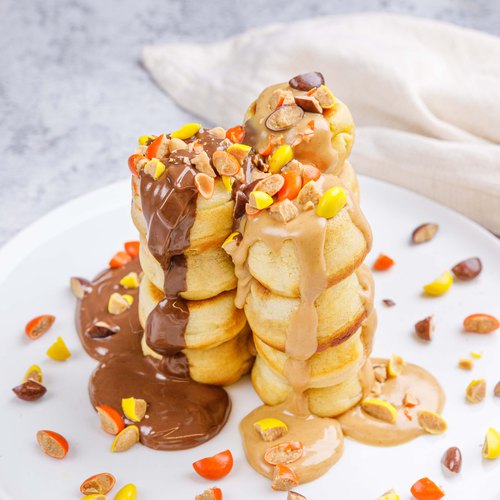 ---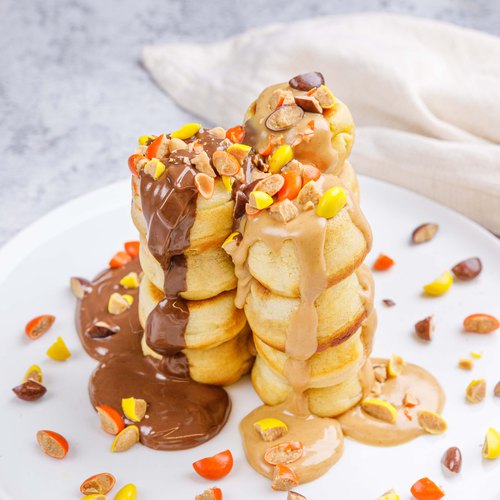 ---
Total time: 1 hour
Prep time: 1 hour
Ingredients for 4 people
3 cups of flour
3 1/3 tbsp of baking powder
2 tbsp of sugar
2 tsp of salt
2 1/2 cups of milk
1/3 cup of butter
2 eggs
cooking spray
2 oz of reese's pieces
1 banana
1 chocolate bar
18 blueberries
1/8 cup of chocolate spread
1/8 cup of peanut butter
1/8 cup of marshmallow fluff
graham cracker crumbs
1/8 cup of maple syrup
---
Tools
Muffin tin
Squeeze bottle
Skewers
---
Step 1/4
Sift the flour, baking powder, sugar, and salt into a large mixing bowl. Whisk the eggs in the small bowl. Then add the melted butter, eggs, and milk and whisk well to combine. Next, fill the squeeze bottle with the pancake batter.
Step 2/4
Place the muffin tin on top of the electric griddle, heat on high, and spray with cooking spray once hot. Fill each cup halfway up with pancake batter, let cook 1 minute, then in one row add 3-4 Reese's Pieces in each cup, the next row add 1 slice of banana to each cup, the following row add a chocolate square to each cup, and in the final row add a few blueberries to each cup. Top each cup off with pancake batter and wait for small bubbles to form on top of the pancake. Then turn each cup over with the help of the bamboo skewer. Let the other side cook, then skewer 4 mini pancakes on each skewer. Place the pancakes in the oven to keep warm while you repeat these steps with the remaining batter, refilling the bottle as needed.
Step 3/4
Coarsely chop the remaining Reese's Pieces and set aside. Heat the chocolate spread, marshmallow fluff, and peanut butter in the microwave for 30 seconds (if using original containers: making sure any aluminum is fully removed from the containers). Stir with a spoon, then heat for an additional 30 seconds.
Step 4/4
Stack the pancakes on 4 plates with 12 mini pancakes per plate in 3 stacks. Pour the peanut butter and chocolate spread over one stack and garnish with Reese's Pieces. Next, pour the marshmallow fluff over one stack and garnish with graham cracker crumbs. Lastly, garnish the final stack with maple syrup. Enjoy!