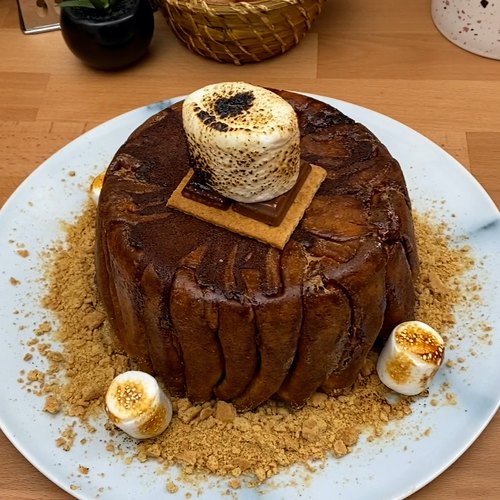 S'mores Lava Cake
Made with s'mores stuffed pancakes 🍫🥞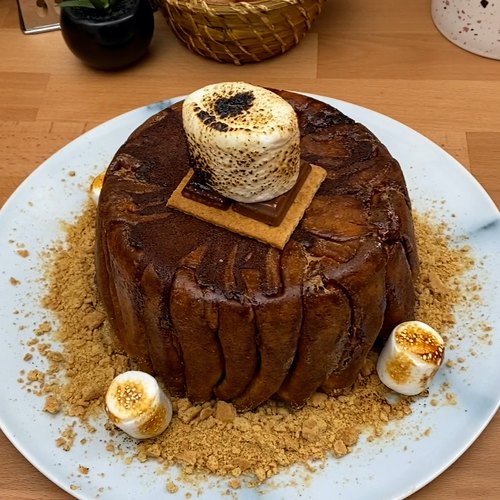 ---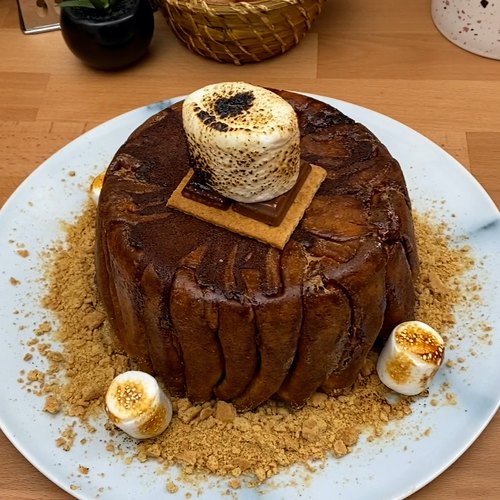 ---
Ingredients for 6 people
1 packet graham crackers
1 1/2 cups of flour
1 tsp of baking powder
2 tbsp of sugar
1 tsp of vanilla extract
6 tbsp of melted butter
6 eggs, divided
2 cups of milk
marshmallow fluff
6 milk chocolate bars
2 cups of dark chocolate
6 tbsp of butter
lava cake box mix
4 marshmallows
1 large marshmallow
---
Tools
Round cake tin
---
Step 1/4
Place graham crackers in a freezer bag and crush into crumbles. In a large bowl mix the flour, baking powder, sugar, vanilla extract, melted butter, eggs, and milk. Pour the pancake batter into a hot frying pan and sprinkle each pancake with crushed graham crackers. Set the pancakes aside.
Step 2/4
Place marshmallow fluff and 2 milk chocolate squares inside each pancake and fold over the edges. Place a glass in the center of a round cake tin and place the s'mores pancakes around the glass.
Step 3/4
Microwave the dark chocolate with 6 tbsp butter for 30 seconds and then mix in 4 eggs. Add to the lava cake box mix and stir well. Remove the glass cup from the center of the cake pan and pour in the lava cake batter. Bake for 25 min at 350 °F.
Step 4/4
Remove the cake and let cool. Turn over onto a serving plate and garnish with crumbled graham crackers, marshmallows, and chocolate. Toast the marshmallows using a blowtorch and enjoy!