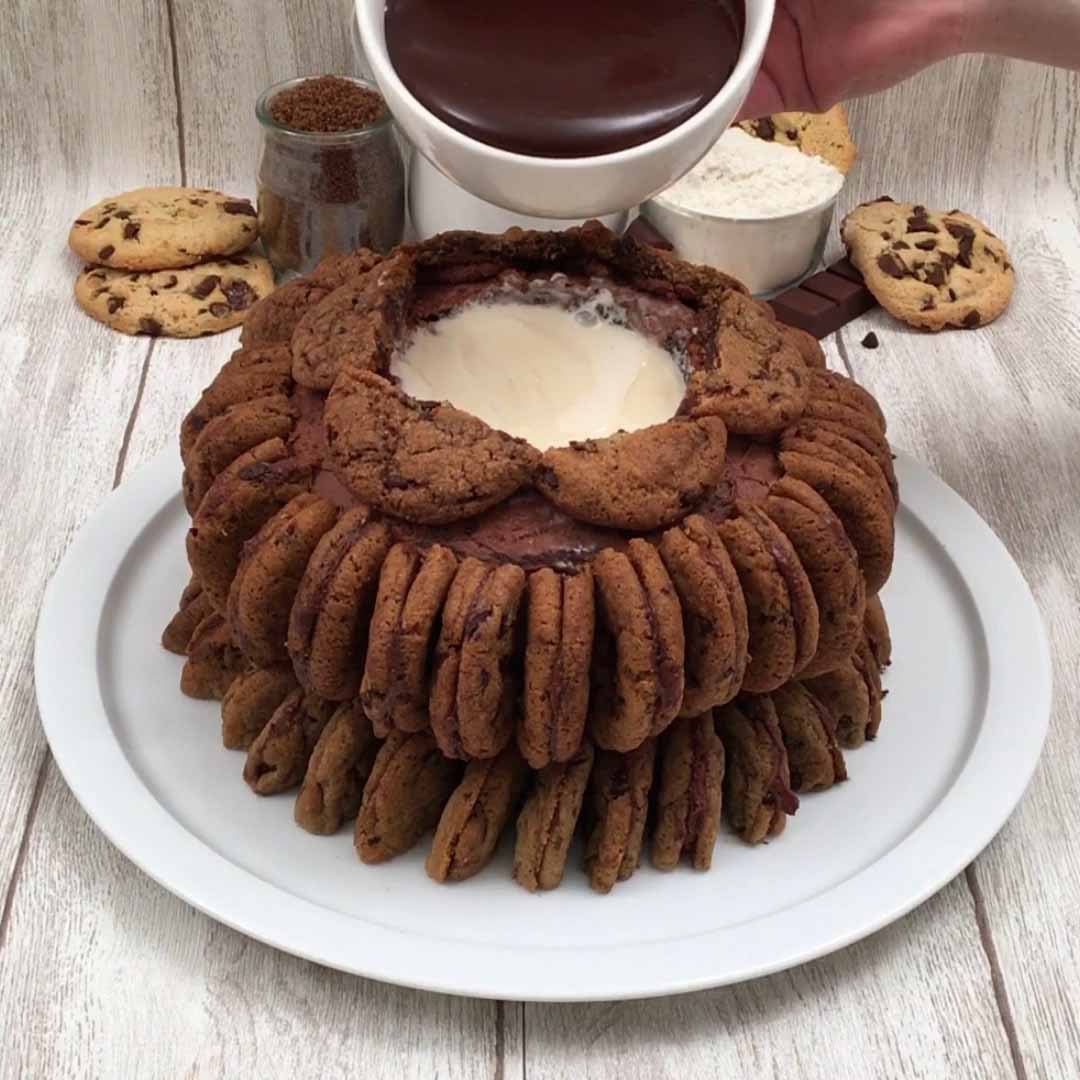 Chocolate Chip Cookie Cake
All our favorite desserts in one! 🍪🎂🤩
Made by you!
Ingredients
8 eggs
1 1/2 cups flour
3/4 cup sugar
1/2 cup melted chocolate
1/2 cup cocoa powder
1/2 cup melted butter
2 sticks & 1 1/2 tbsp butter
3/4 cup sugar
3/4 cup brown sugar
1 tsp vanilla extract
2 eggs
2 1/2 cups flour
1 tsp baking soda
1 1/2 tsp baking powder
Salt, a pinch
2 cups chocolate chips
Whipped cream
Melted chocolate, for whipped cream and garnish
1 quart vanilla ice cream
1 tall 6-inch springform pan
Tools
Plastic bottle
1. For the cake: Mix together eggs, flour, sugar, cocoa powder, melted chocolate, and melted butter. Pour into a cake mold and bake for 40 minutes at 350 °F. Let cool and remove from pan.
2. For the cake: Cream together 2 sticks and 1 1/2 tbsp butter with the white and brown sugars, then add in the 2 egg mixing well between each addition. In another bowl mix flour, baking powder, baking soda, and salt together then combine with butter mix. Add in chocolate chips then scoop out large TBSP onto parchment-lined baking sheet and bake for 7-10 minutes at 350 °F. Let cool.
3. Cut the top and bottom off a large 1-liter bottle, and remove the center of the cake. (Save this for cake pops or for another dessert!). The add about 1/4 cup of melted chocolate to whipped cream and frost cake. Cut cooled cookies in half (and depending on the height of the your cake, in quarters too). Use remaining frosting to glue halved cookies together. Place cookies all around the cake, including the top.
4. Fill the hole in the center with ice cream, then pour remaining melted chocolate over the top so it just starts to drip down the sides. Serve before ice cream becomes too melted. Enjoy!
Similar recipes from Chefclub