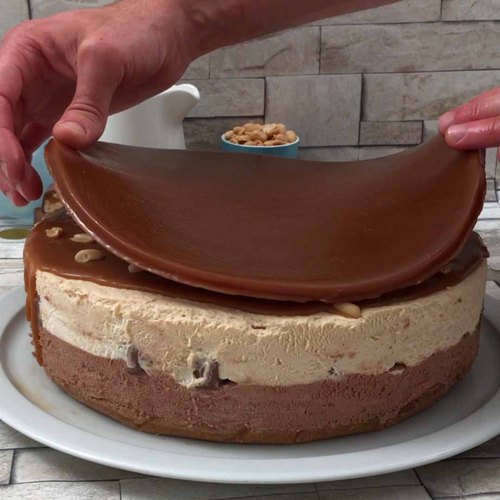 Frozen Snickers
This might just be the best Snickers cake you've ever eaten. 😅😍🍫❤️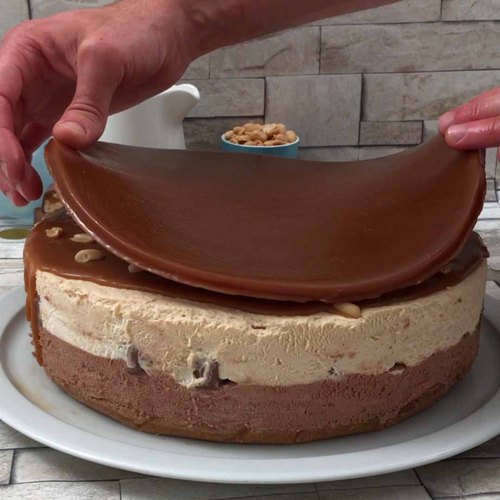 ---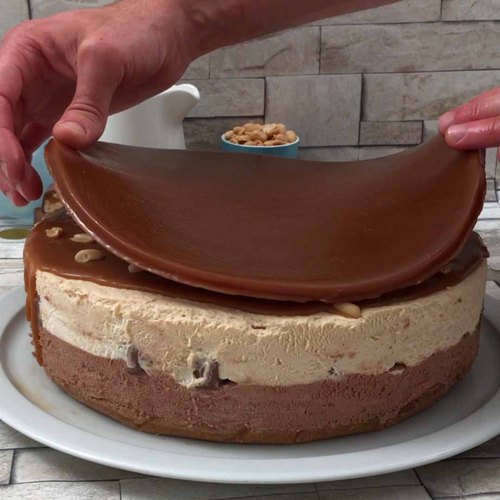 ---
Ingredients for 10 people
1 cup of heavy cream
1/2 cup of milk
3 cups of sugar
1 cup of corn syrup
snickers
1 1/2 sticks butter
1 box of graham crackers
3 1/3 cups of heavy whipping cream
1 3/4 cups of powdered sugar
2/3 cup of peanut butter
1 cup of melted chocolate
1 box of snickers ice cream bars
caramel sauce
peanuts
chocolate shell
---
Tools
9-inch spring form pans
Parchment paper
---
Step 1/4
Make Caramel Top: In a sauce pan, mix 1 cup heavy cream, 1/2 cup of milk, 3 cups sugar, and 1 cup corn syrup. Boil until caramel in color then pour into the ring of a spring form pan with parchment on the bottom. Set aside.
Step 2/4
Make Crust: Cut up 4 Snickers and mix with 1 1/2 sticks of butter, let melt then mix with 1 box of crushed graham crackers. Push this into a spring form pan lined with parchment paper, and set aside.
Step 3/4
Make Filling: Mix 3 1/3 cups of heavy whipping cream with 2 cups powdered sugar and beat until stiff. Divide in 2 and add 2/3 cup peanut butter to one half and 1 cup of melted chocolate to the other half. Spread all of the chocolate whipped cream on the graham cracker crust then place one box worth of Snickers ice cream on the chocolate cream, pushing them in slightly while forming a Tetris pattern. Cover with the peanut butter cream and freeze until solid.
Step 4/4
Once frozen, pour caramel over top and sprinkle with peanuts, then place the caramel ring on top pushing down so the caramel oozes out the sides. Cover with magic shell chocolate, let chocolate harden then cut slices and serve.