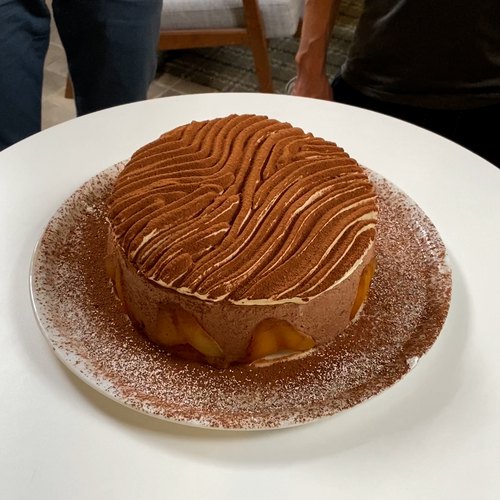 Lavish Pear Cake
A cake worthy of a toast🥂🍰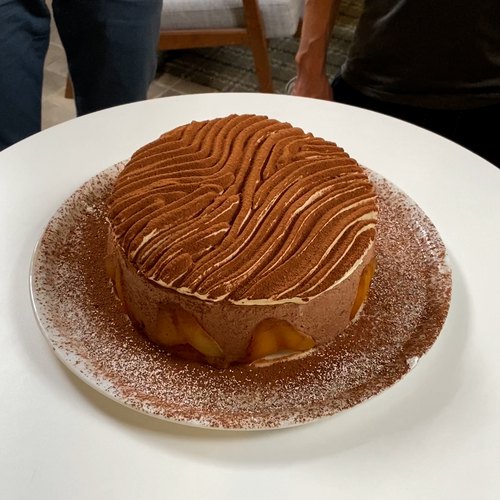 ---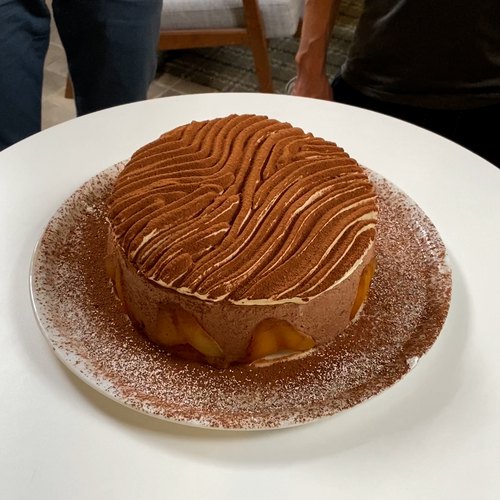 ---
Ingredients for 8 people
vanilla ice cream
2 cups of sugar
4 1/4 cups of water
4 pears
vanilla cake
8 oz of mascarpone cheese
3 cups of heavy whipping cream
2/3 powdered sugar
1 1/2 cups of melted dark chocolate
cocoa powder
---
Tools
Springform pan
Ziploc bag
Wine glasses
---
Step 1/4
Place the ring of a springform on a lined baking sheet. Line the bottom with vanilla ice cream. Freeze. Fill a Ziploc bag with the remaining vanilla ice cream and cut a lower corner of a Ziploc bag to form a piping bag. Remove the circle from the mold and use the piping bag to pipe waves of ice cream on the ice cream disc. Freeze.
Step 2/4
Melt the sugar in a saucepan, then add the water, beat, then remove from the heat. Peel, halve, and core the pears, then dip in the caramel. Once they are well coated, let drain on a plate. Arrange the pears around the edge of the springform pan. Place a disc of vanilla cake in the center, and brush with the remaining caramel sauce.
Step 3/4
Whip the mascarpone, the heavy whipping cream, and the powdered sugar. Melt the dark chocolate, add it to the whipped cream and mix with a spatula. Fill the springform pan with the chocolate whipped cream. Freeze.
Step 4/4
Unmold the cake, place the vanilla ice cream disc on top, and sprinkle with cocoa powder. Use wine glasses to scoop out slices of cake, toast, and enjoy!