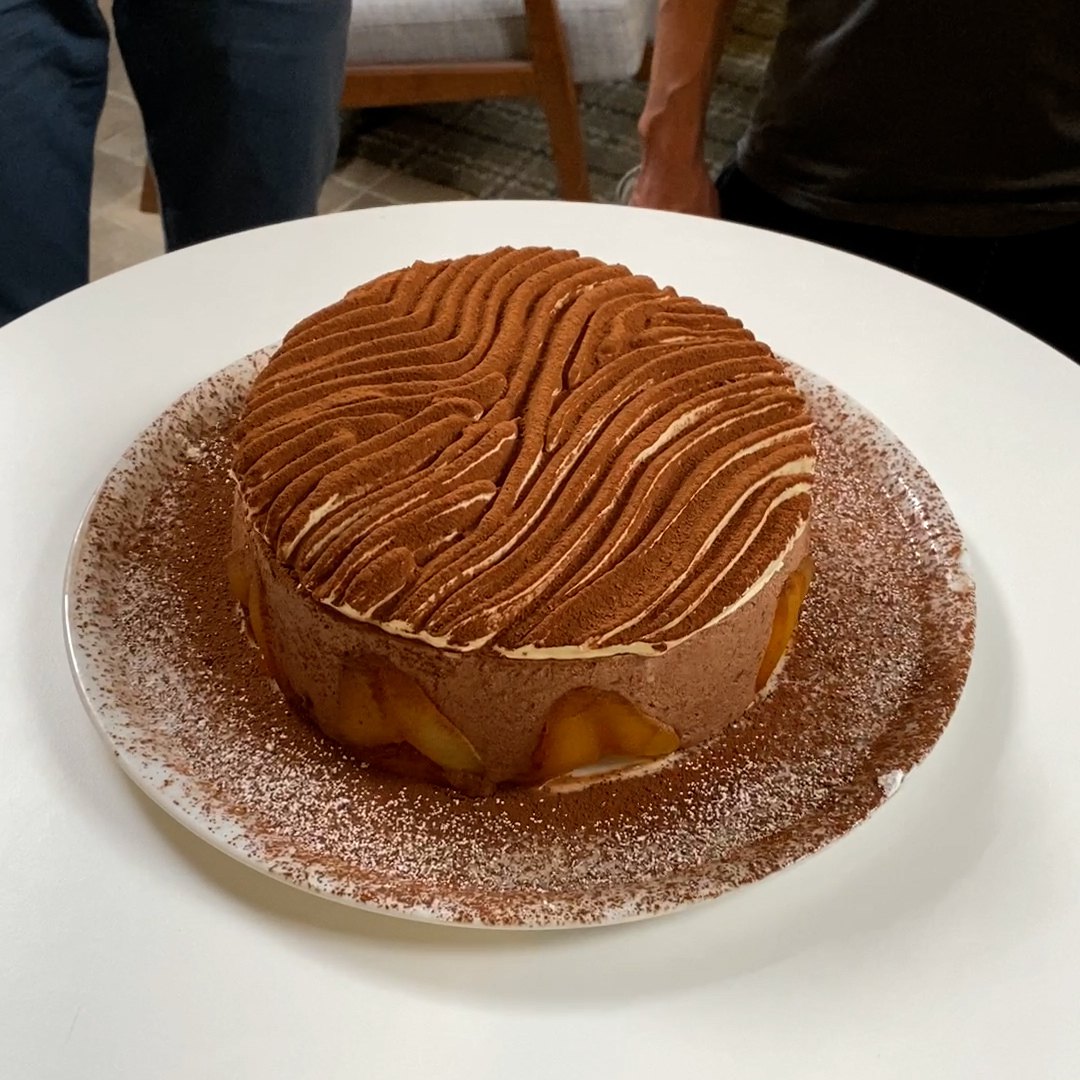 Lavish Pear Cake
A cake worthy of a toast🥂🍰
Made by you!
Ingredients
Vanilla ice cream
2 cups sugar
4 1/4 cups water
4 pears
Vanilla cake
8 oz mascarpone cheese
3 cups heavy whipping cream
2/3 powdered sugar
1 1/2 cups melted dark chocolate
Cocoa powder
Tools
Springform pan
Ziploc bag
Wine glasses
1. Place the ring of a springform on a lined baking sheet. Line the bottom with vanilla ice cream. Freeze. Fill a Ziploc bag with the remaining vanilla ice cream and cut a lower corner of a Ziploc bag to form a piping bag. Remove the circle from the mold and use the piping bag to pipe waves of ice cream on the ice cream disc. Freeze.
2. Melt the sugar in a saucepan, then add the water, beat, then remove from the heat. Peel, halve, and core the pears, then dip in the caramel. Once they are well coated, let drain on a plate. Arrange the pears around the edge of the springform pan. Place a disc of vanilla cake in the center, and brush with the remaining caramel sauce.
3. Whip the mascarpone, the heavy whipping cream, and the powdered sugar. Melt the dark chocolate, add it to the whipped cream and mix with a spatula. Fill the springform pan with the chocolate whipped cream. Freeze.
4. Unmold the cake, place the vanilla ice cream disc on top, and sprinkle with cocoa powder. Use wine glasses to scoop out slices of cake, toast, and enjoy!
Similar recipes from Chefclub