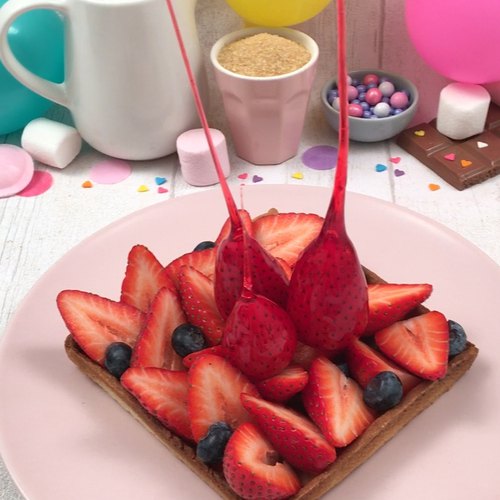 Magic Cake Ideas
Magic Cake Ideas! 8 fresh takes on dessert! 👨‍🍳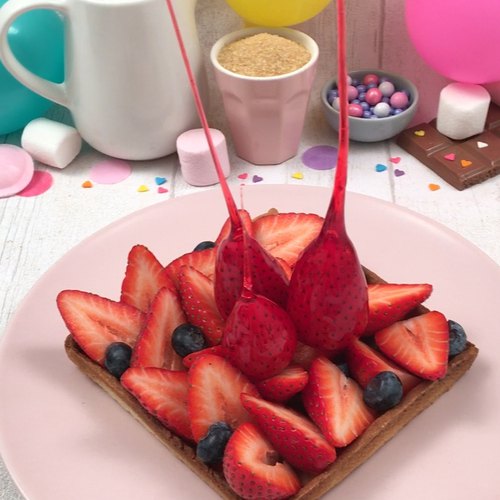 ---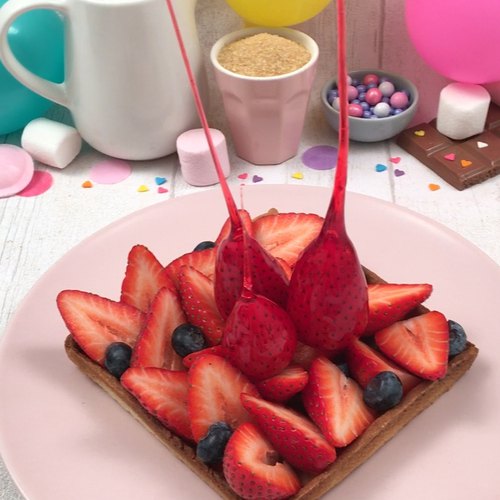 ---
Total time: 3 minutes
Prep time: 3 minutes
Ingredients for 4 people
Cake
Frosting
Potatoes
Shortbread crust
Dark chocolate
Chocolate mousse
Candy strips
Sugar
Glucose syrup
Strawberries
Strawberry tart
---
Tools
Kitchen string
Skewers
Ziplock bag
parchment paper
Rolling pin or metal rod
Plastic bottle
---
Step 1/6
Place 4 strings parallel on a cake and pour a different colored icing on each string. Slide a skewer from the middle of the 1st string to the other end of the cake to leave a colored mark on the cake.
Step 2/6
Cut 2 potatoes in half. Cut into shapes (heart, star, etc.) into the flesh. Scoop out the potato flesh around these shapes to get stamps. Cut discs out of a shortcrust pastry using a glass. Print the shapes of the potatoes on the discs of shortcrust pastry then bake for 20 minutes at 350°F. Once out of the oven, color the shapes printed on the cookies with melted dark chocolate.
Step 3/6
Place a drawing in 1 ziplock bag then trace the drawing with melted dark chocolate. Place in the freezer. Take the chocolate shape out of the freezer and place it on a cake.
Step 4/6
Form a large rectangle of dark chocolate on parchment paper then place another sheet of parchment paper on top. Roll these sheets around a rolling pin and place in the freezer. Form 1 spiral of chocolate mousse on a chocolate cake. Unroll the sheets around the rolling pin then collect the pieces and glue them around the cake. Sprinkle the cake with chocolate sprinkles and enjoy.
Step 5/6
Form a bundle of pieces of string and tie it at one end with another piece of string. Lay this brush on a cake open with the strings spreading around the center. Pour colored frostings over these strings in concentric circles. Remove the bundle from the cake, turning it to draw a shape on the cake.
Step 6/6
Dip a candy stripvin green icing and draw lines on a cake with leaves at the base. Dip forks in colored icing and place them over the lines to form flowers. Dip the bottom of plastic bottles in colored frostings and print them on a cake. Do the same with a plastic cap. Heat water with sugar, glucose syrup and red coloring. Dip strawberries in it and let dry by forming a filament at the end of the strawberry. Place on a strawberry tart and enjoy!