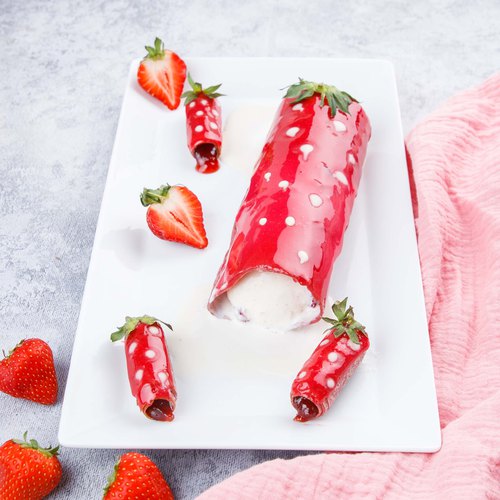 Strawberry & White Chocolate Tube
Strawberry & White Chocolate Tube! Featuring yummy ice cream 🤗🍓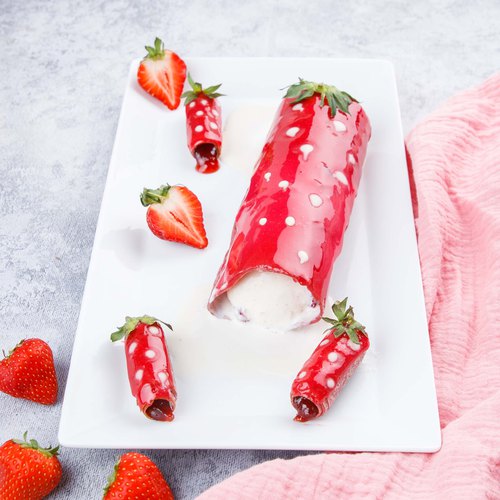 ---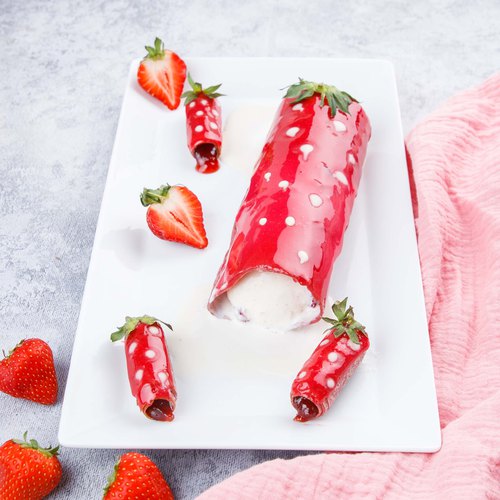 ---
Total time: 1 hour 35 minutes
Prep time: 35 minutes, Cook time: 30 minutes, Rest time: 30 minutes
Ingredients for 4 people
0.4 cup of strawberry coulis
6 puff pastries
1/2 cup of sugar
0.4 cup of glucose syrup
2 oz of condensed milk
2 gelatin sheets
4.2 oz of white chocolate
Red food coloring
6 strawberries
3 scoops of vanilla ice cream
2 tbsp of strawberry jam
---
Tools
Rolling pin or metal rod
Cling wrap
Pizza cutter
parchment paper
---
Step 1/3
Cover the work surface with cling wrap, spread the strawberry coulis on the cling wrap, place a sheet of puff pastry and brush it with the strawberry coulis. Repeat the process with 3 other sheets, overlap the sheets. Cut the puff pastry sheets into 4 strips using a pizza wheel, wrap each strip around the handle of a wooden spoon, then place it on a baking sheet lined with parchment paper. Repeat the process with 2 other sheets of puff pastry, stack the sheets and roll them around a rolling pin, place the rolling pin on the plate covered with parchment paper and bake for 30 minutes at 300°F.
Step 2/3
Heat 3 tbsp of water, the sugar, the glucose syrup and the condensed milk, add the gelatin sheets. Pour the mixture over 3.5 oz of white chocolate, add the red food coloring, mix to obtain a smooth red icing and let it cool to room temperature. Cut the strawberries into pieces. Place 3 scoops of Chefclub vanilla ice cream in a row on the cling wrap, pour the strawberry coulis, arrange the strawberries, fold the cling wrap back and form a roll of ice cream and set aside for 30 minutes in the freezer. Melt the rest of the white chocolate, form a parchment paper cone and pour the melted white chocolate inside. Form another cone out of parchment paper, place the strawberry jam inside and set it aside.
Step 3/3
Unmold the pastry roll from the rolling pin, dip it in the icing, place the ice cream roll inside and place it on a plate. Unmold the small rolls from the wooden spoon, dip them in the glaze and garnish them with strawberry jam. Draw dots of white chocolate on each roll to form strawberries, place the strawberry stalks at the ends and enjoy!