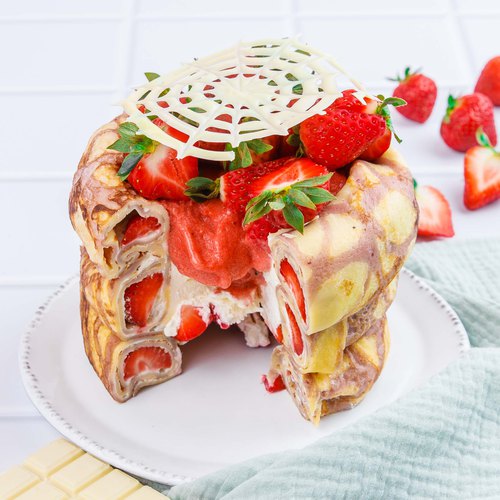 Berry Sweet Crepes
Berry Sweet Crepes! With a refreshing filling 🍓🍰🍨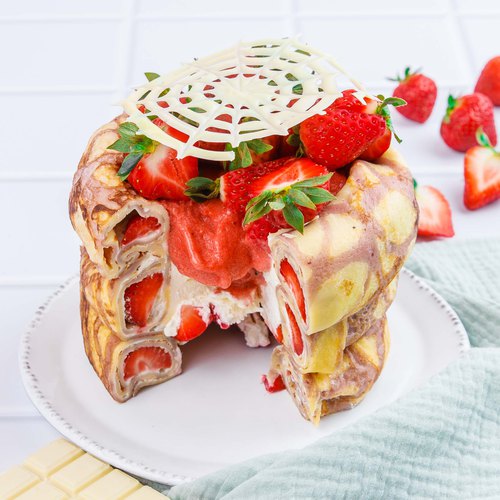 ---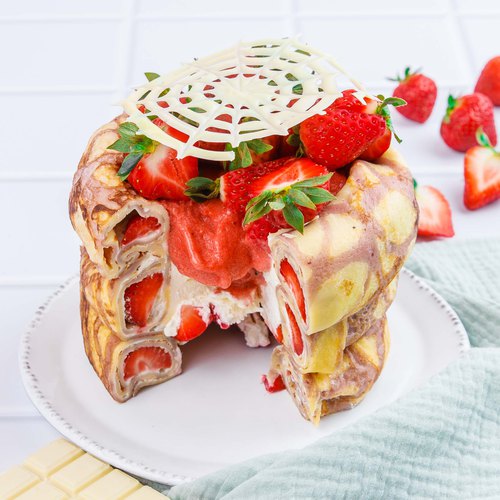 ---
Total time: 1 hour 30 minutes
Prep time: 35 minutes, Cook time: 15 minutes, Rest time: 40 minutes
Ingredients for 5 people
1 1/2 tbsp of butter
4 egg
4 tbsp of sugar
1 1/4 cups of flour
2 cups of milk
3 1/2 tbsp of strawberry coulis
0.4 cup of heavy cream
3 1/2 tbsp of mascarpone
1 package of strawberries
1 oz of white chocolate
1 container of chefclub strawberry ice cream
---
Tools
Cookie cutter
Toothpick
---
Step 1/3
Melt the butter. Mix the eggs, the sugar, the flour, the lukewarm milk and the melted butter until smooth. Pour ⅓ of the crepe batter into a bowl and mix it with the strawberry coulis to obtain a strawberry pancake batter.
Step 2/3
Whip the heavy cream and mascarpone together. Set aside. Pour the crepe batter with red fruits into a buttered frying pan, forming spirals, add the plain batter and let it cook. Repeat the process to have 6 pancakes. Cut 7 strawberries in 2. Overlap the ends of 2 crepes and spread the whipped cream. Arrange a row of 5 half-strawberries and roll up the crepes. Repeat the process to have 3 crepe rolls. Arrange the crepe rolls around a glass and refrigerate for 20 minutes.
Step 3/3
Melt the white chocolate and trace circles of melted white chocolate using circular cookie cutters of different sizes. Draw lines with a toothpick to form a pattern with the circles of white chocolate. Refrigerate 20 minutes. Cut the rest of the strawberries into pieces. Remove the glass in the center of the pancake rolls and place the strawberries in the center. Cover with whipped cream. Cut a circle in the Chefclub strawberry ice cream and place it on the whipped cream. Arrange the rest of the strawberries on top and place the white chocolate circle. Enjoy!