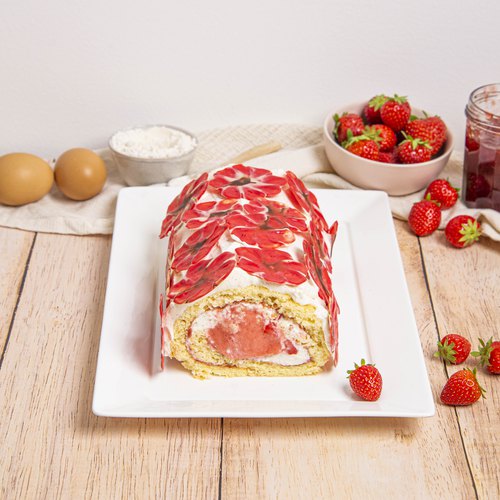 The Strawberry Ice Cream Cake
The Strawberry Ice Cream Cake! Decorated with chocolate flower petals😍🍓🍦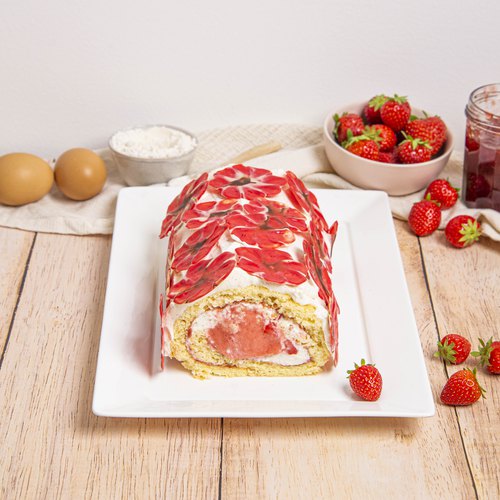 ---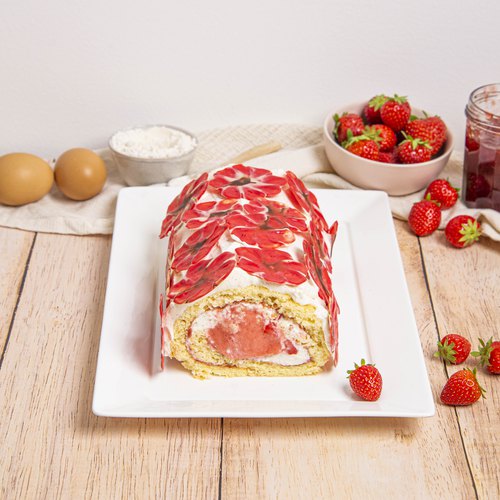 ---
Total time: 45 minutes
Prep time: 30 minutes, Cook time: 15 minutes
Ingredients for 3 people
1 1/4 cups of strawberries
7 oz of white chocolate
3 1/2 oz of dark chocolate
1 pint of strawberry ice cream
1/2 cup of sugar
4 egg
9 tbsp of flour
1 cup of heavy cream
1 1/2 tbsp of powdered sugar
3 tbsp of strawberry jam
Red food coloring
Oil
---
Tools
Champagne flutes
Skewers
Electric hand mixer
Straw
Plastic sheet protector
Cling wrap
---
Step 1/5
Place 3 strawberries in each flute and skewer them. Cut 3 strips from the plastic sheet protector and place them horizontally. Melt the white chocolate and pour half of it into a bowl. Add 3 tbsp of red food coloring in the other bowl with the white chocolate and mix. Melt the dark chocolate. Draw 3 discs of red chocolate on a strip of plastic sheet protector, then add 1 small disc of white chocolate in the center with a spoon. Dip 1 skewer in dark chocolate then draw a dot of dark chocolate in the disc of white chocolate. Blow into the straw above the discs, turning the plastic sheet protector to obtain 8 petals. Repeat the process to have 9 flowers and refrigerate.
Step 2/5
Place 4 scoops of ice cream on the cling wrap and roll to make a sausage shape. Tighten the ends and place in freezer 2 hours.
Step 3/5
Beat the eggs with the sugar until frothy. Add the flour and vegetable oil and mix. Pour on a baking sheet lined with parchment paper. Bake for 12 to 15 minutes at 350°F.
Step 4/5
Whip the heavy cream with the powdered sugar and the vanilla. Skewer 8 strawberries on 1 skewer and repeat the process to have 2 filled skewers. Place the strawberries in a salad bowl and cut them into strips. Spread the sponge cake and draw lines without cutting it, then spread the strawberry jam on it. Add a layer of whipped cream. Place the strawberry slices in rows without going all the way to the ends and place ice cream at the end of the sponge cake. Roll the cake to the end, tightening with cling film then place in the freezer.
Step 5/5
Spread the rest of the whipped cream on the roll, then place the chocolate flowers. Serve and enjoy!