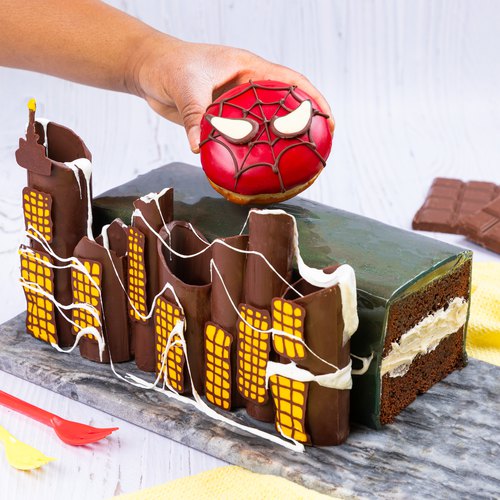 Spiderman New York Skyline Cake
Spiderman New York Skyline Cake! My spidey senses are telling me it's delish' 🕸️🎂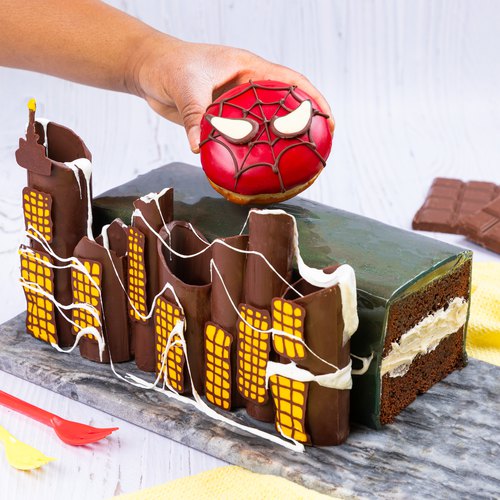 ---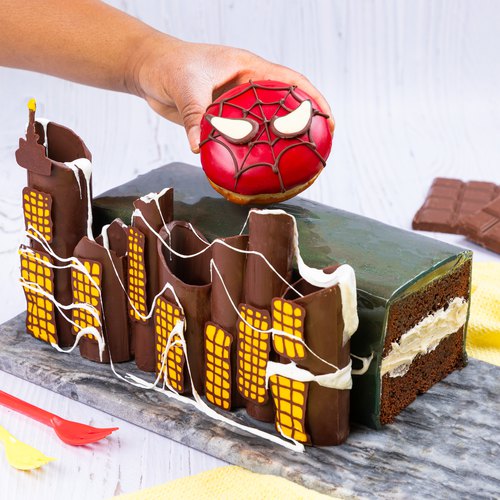 ---
Total time: 1 hour 15 minutes
Prep time: 15 minutes, Cook time: 30 minutes, Rest time: 30 minutes
Ingredients for 6 people
2.2 cups of butter
5 egg
1/2 cup of flour
1 1/4 cups of egg whites
7 oz of glucose syrup
5 gelatin sheets
1/4 cup of condensed milk
10 oz of white chocolate
10 oz of dark chocolate
2 cups of sugar
3 1/2 oz of marshmallows
2 1/4 tsp of baking powder
1 donut
Red food coloring
Green food coloring
Yellow food coloring
---
Tools
parchment paper
---
Step 1/5
Mix 0.8 cup of butter with the flour, brown sugar, baking powder and eggs. Pour into a mold and bake for 30 minutes at 350°F. Whip the egg whites and mix with 1 cup of sugar and the remaining butter. Pipe the cake with the mixture and refrigerate.
Step 2/5
Mix the remaining sugar with 0.4 cup of water, the glucose syrup and condensed milk. Heat the mixture, add the gelatin sheets and 7 oz of white chocolate. Add green food coloring and pour over the cake. Allow to set.
Step 3/5
Melt the remaining white chocolate and add some red food coloring. Pour over the donut. Use 1 oz of dark chocolate to pipe the spiderweb and white chocolate to create the eyes.
Step 4/5
Pour 7 oz of dark chocolate in 3 plastic tubes and allow to set. Use yellow and dark chocolate to create windows on parchment paper. Unmold the chocolate tubes, cut them with a hot knife at an angle and glue them together. Add the chocolate windows.
Step 5/5
Melt the marshmallows and stretch them over the chocolate tubes. Place on top of the cake and add the donut. Serve and enjoy!