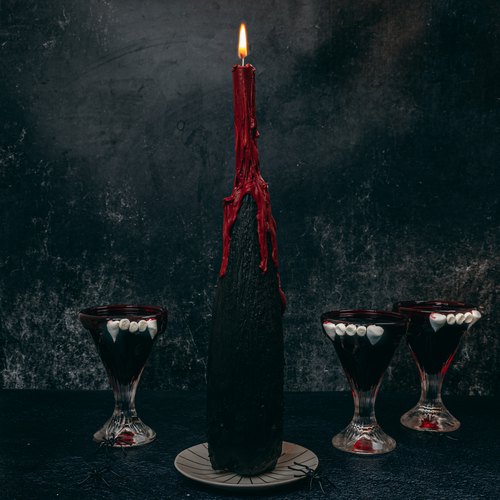 Are you 18 years old or older?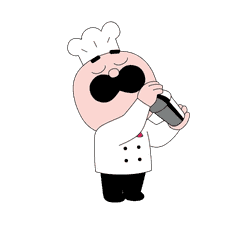 You must have the right to consume alcohol in your country of residence to continue on this site.
Please drink responsibly
Fangtastic Cocktail & Cake
Fangtastic Cocktail & Cake! It's love at first bite 🧛🍸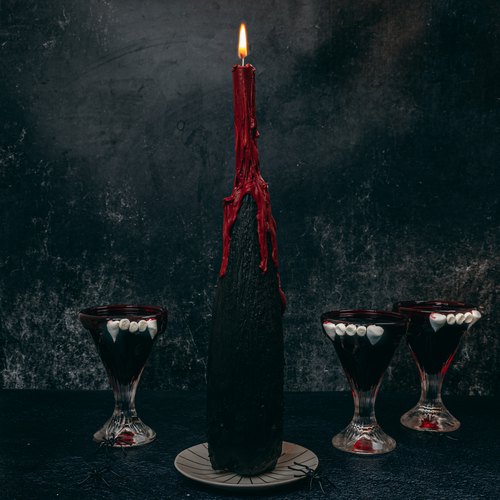 ---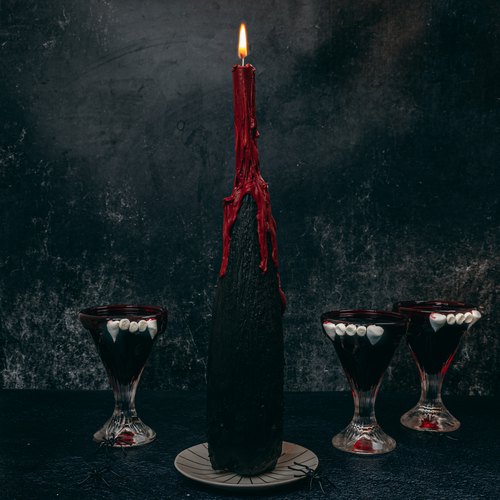 ---
Total time: 3 hours 25 minutes
Prep time: 1 hour 30 minutes, Cook time: 1 hour 15 minutes, Rest time: 40 minutes
Ingredients for 5 people
3.2 cups of red wine
French four spice mix
3 cinnamon sticks
1 cloves
3 star anise
2 clementines
Nutmeg
2 1/2 cups of sugar
15 oz of dark chocolate
4/5 cup of heavy cream
3/4 cup of butter
2 egg
1 1/2 cups of flour
2 tsp of baking powder
1/4 cup of cacao powder
Black food coloring
3 1/2 oz of white chocolate
12 mini marshmallows
Red food coloring
1 cup of apple juice
---
Tools
Plastic bottle
empty cling wrap tube
---
Step 1/4
Slice the clementine. Heat the red wine, four spice mix, cinnamon, clove, star anise, nutmeg, apple juice, clementine, 1/2 cup of sugar and bring to the boil for 15 minutes. Set aside .
Step 2/4
Melt the dark chocolate, cut the plastic bottle, pour the melted chocolate inside each part of the bottle, remove the excess and refrigerate for 20 minutes. Whip the heavy cream, add the rest of the melted chocolate to create a mousse.
Step 3/4
Mix ¾ cup of butter, 1 cup of sugar, eggs, flour, baking powder and cacao powder. Pour the batter into a buttered mold and bake for 1 hour at 320°F. Unmold the chocolate shells from the bottle, garnish the cake shells with the chocolate mousse and assemble the 2 parts. Melt the rest of the dark chocolate and add the black coloring. Brush the chocolate bottle with dark chocolate.
Step 4/4
Melt the white chocolate, add the red colouring, pour the chocolate into the empty cling wrap tube, place the candle wick and refrigerate for 20 minutes. Place the chocolate candle on the bottle, brush the red chocolate to form drippings. Heat 1 cup of sugar until you get caramel, add the red colouring, dip the end of the glasses in the red caramel, place the mini-marshmallows on the red caramel to form teeth, pour the mulled wine and enjoy!