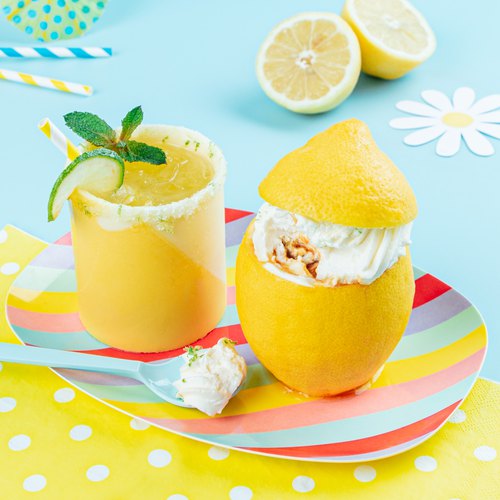 Are you 18 years old or older?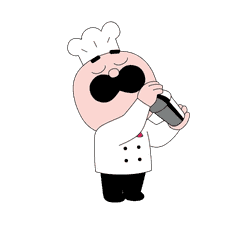 You must have the right to consume alcohol in your country of residence to continue on this site.
Please drink responsibly
All-American Vodka Lemonade
All-American Vodka Lemonade! The zest is yet to come with this cocktail 🍋🍸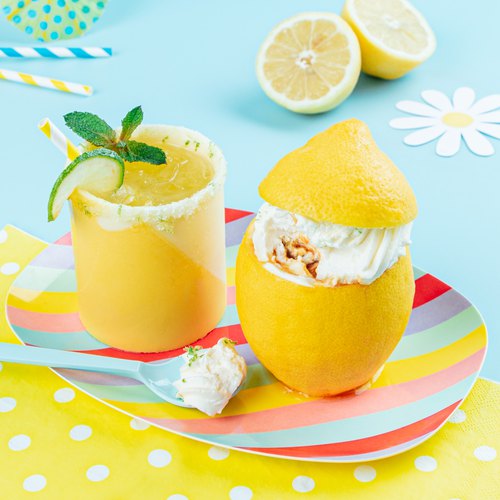 ---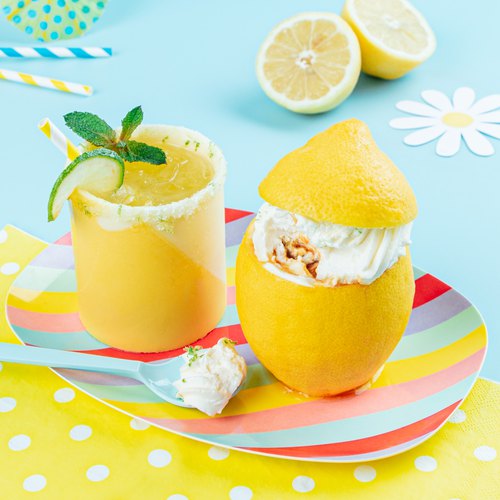 ---
Total time: 40 minutes
Prep time: 20 minutes, Cook time: 5 minutes, Rest time: 15 minutes
Ingredients for 3 people
3 lemon juice
1 cup of heavy whipping cream
1 can of sweetened condensed milk
1 cup of white chocolate
1 cup of yellow chocolate
1 lime
1/4 cup of sugar & lime zest
Vodka
---
Tools
Cocktail shaker
Tape
Country time lemonade container
Sieve
---
Step 1/3
Using the painters tape, make a diagonal line inside the country time lemonade container. Pour melted yellow chocolate to fill the bottom half of the diagonal in the cup. Turn the cup to fill in all of the area with the chocolate. Place into the refrigerator for 5 minutes to set. Take the containers out of the fridge and remove the tape before the chocolate has set completely. Pour in the white chocolate and turn the cup to coat all the sides. Pour out any excess and place into the refrigerator to chill until completely set.
Step 2/3
Cut the top off of 3 large lemons. Sprinkle with sugar and place a very hot spatula on top to melt the sugar. Allow to cool a couple minutes then remove the caramal disks and set them aside. Scrape out the inside of each lemon over a sieve then press down to collect all the juice. Take 1/2 cup of the juice and stir together with the sweetened condensed milk. Once the sweetened condensed milk has thickened fold in half of the whipped cream. Use a piping bag to fill the lemons. Smooth the cream at the top on each lemon then top with the caramel disk. Use the rest of the whipped cream to pipe onto the top of the caramel then add some lime zest. Top with the lemon hat. Place into the refrigerator for 30 minutes.
Step 3/3
Dip the rim of the chocolate cups in lime juice. Dip the top of the cups in the sugar lime zest mixture. In the shaker add a couple ice cubes, pour over the country time lemonade and the vodka. Shake and pour over crushed ice into the chocolate cocktail cups. Garnish with lime slices and fresh mint. Serve and enjoy!