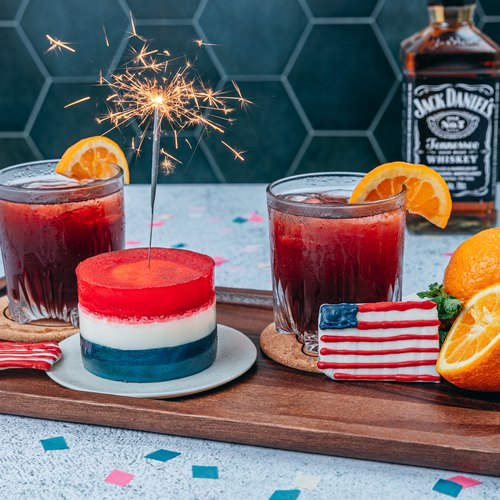 Are you 18 years old or older?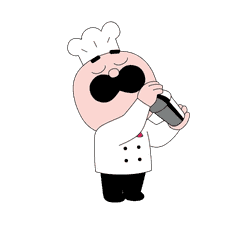 You must have the right to consume alcohol in your country of residence to continue on this site.
Please drink responsibly
4th Of July Cannon Cocktails
4th Of July Cannon Cocktails! The perfect drink to toast America's birthday 🥳🎉🍸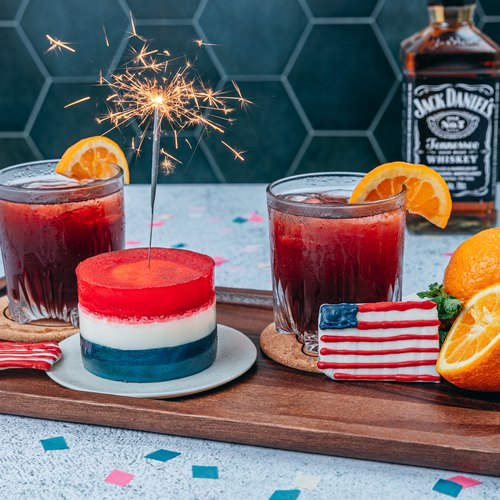 ---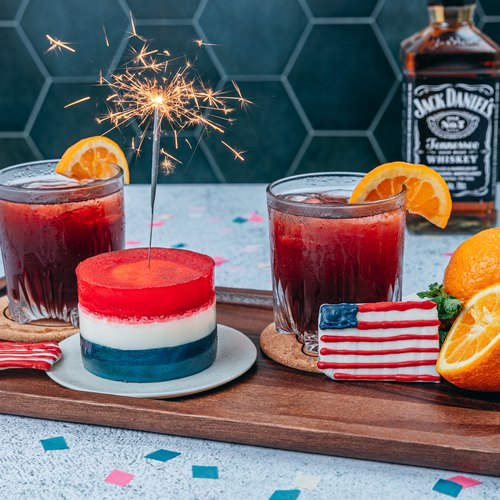 ---
Total time: 10 minutes
Prep time: 10 minutes
Ingredients for 3 people
1 cl of jack daniel's
2 cups of vodka
2 oranges
1 berry blue jello
1 strawberry jello
Candy melts
Cherries
1 can of condensed milk
Ice cubes
1 pound cake
2 packages of gelatin
4 cups of boiling water
8 oz of white chocolate
---
Tools
Apple wood
Plastic bottle
Blowtorch
Tea steeper
Sparklers
---
Step 1/4
Take large square ice cubes and coat in white candy melts. Use red and blue candy melts to create the American flag. Refrigerate.
Step 2/4
In a jar, add the cherries, jack daniel's and slices of orange. Place a tea-infuser on top and fill with apple wood chips. Use blowtorch to light the chips and allow the jar to smoke. Close the jar and mix. Serve in glasses with ice cubes.
Step 3/4
In 2 separate glasses add the jellos. Add vodka and boiling water. Mix until blended. Cut both ends of a plastic bottle and pipe buttercream on the outside of the bottle. Place a piece of pound cake in the bottle. Add the blue jello and chill to set. Add condensed milk and gelatin. Allow to set. Add the red jello and allow to set.
Step 4/4
Place sparklers in the jello shots. Serve the cocktails with the candy melt flags. Enjoy!