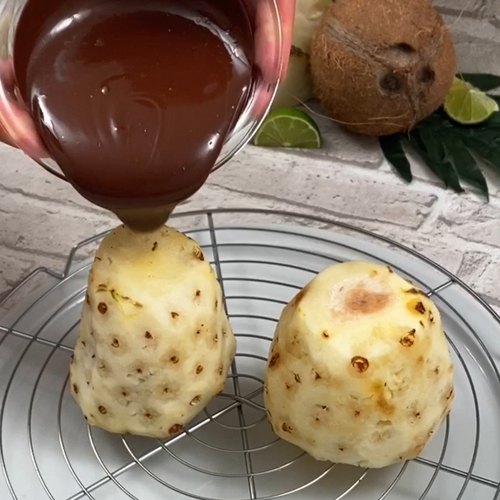 Pina Colada Coconuts
Everything about this is edible — and drinkable! 🌴🍍🍹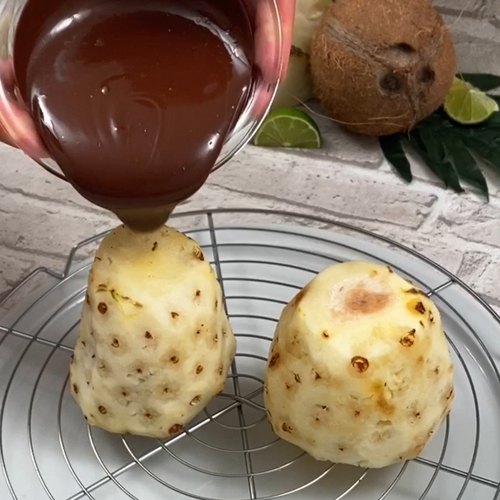 ---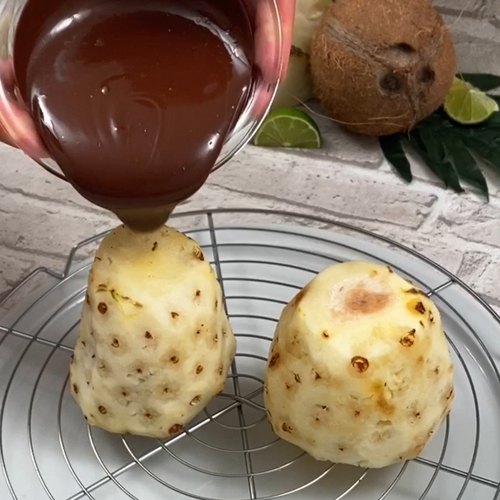 ---
Ingredients for 1 person
pineapple
melted dark chocolate
2 cups of coconut cream
1 cup of shredded coconut
6 oz of white rum
6 oz of amber rum
ice cubes
lime juice
marishino cherries
mango
rock candy
---
Tools
Cocktail umbrellas
Apple corer
Blender
Cooling rack
Wire brush
Paint brush
Paper towel
---
Step 1/3
Remove the stem from the pineapple, then cut in half. Use an apple corer to remove the inside of the pineapple, place it in a bowl, and freeze. Peel the remaining pineapple and use a paper towel to remove excess moisture. Chill.
Step 2/3
Place the pineapple halves upside down on the cooling rack. Pour the melted chocolate over the pineapple Chill until solid. Repeat a second time. Using a wire brush, brush the chocolate to resemble a coconut. Turn the pineapple right side up and use a paintbrush to paint the top of the pineapple with white chocolate. Chill.
Step 3/3
In the blender, add the coconut creme, shredded coconut, lime juice, rums, and ice. Blend until thick and creamy, then pour the Pina Colada into the "coconut." Garnish with cherries and mango, umbrellas, and rock candy. Cheers!