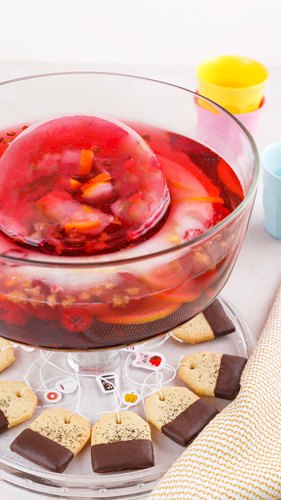 Fruitilicious Bomb
Fruitilicious Bomb! Try this berry cute dessert now 😘🍋🍊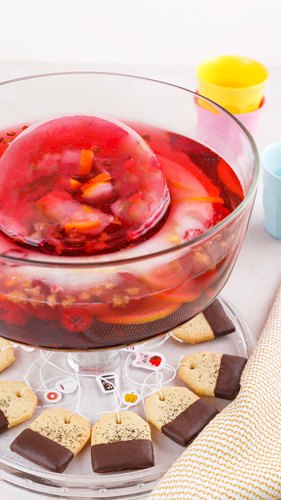 ---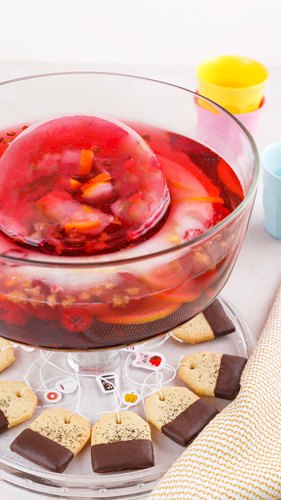 ---
Total time: 4 hours
Cook time: 20 minutes, Rest time: 3 hours 40 minutes
Ingredients for 8 people
1 1/2 cups of sugar
1/4 cup of corn syrup
3 tbsp of water
1/4 cup of fruit tea
2 1/4 cups of flour
1 egg
10 tbsp of butter
1 earl grey tea bag
1 orange
1 lemon
1 cup of raspberries
Melted dark chocolate
---
Tools
Cake ring
---
Step 1/5
Take a large bowl with a flat bottom and cover with multiple layers of cling wrap (pulling each layer tight across the top of the bowl). In a small pan, stir together ½ cup of sugar, corn syrup and water. Heat the mixture to 300°F then remove from heat. Allow the sugar syrup to cool until the temperature is around 248°F.
Step 2/5
Place a cake ring on the cling wrap lined bowl. Slowly pour the hot sugar into the center, until it covers about 1/3. Press down using equal pressure on both sides of the cake ring to obtain a dome shape. Hold the cake ring in place until the sugar cools and sets enough to let go and the sugar will not retract. To speed this up, hold the bowl in front of a fan to cool. Allow to cool completely before removing. Set aside and keep at room temperature. Continue to make another dome. Prepare the bowl again with the cling wrap then repeat the steps for have a second sugar dome. When both domes have cooled, fill one side with loose leaf tea. Use some of the leftover melted sugar to attach the two domes together. Set aside.
Step 3/5
In a Bundt pan, arrange the citrus slices and top with raspberries. Cover with water and place in the freezer until completely frozen.
Step 4/5
In a large bowl, place the flour, ⅔ cup of sugar and butter. With your hands work the ingredients together and rub the butter into the flour. When the mixture resembles sand, add the egg and continue to work the dough. Roll out between two sheets of parchment paper until 1/4" thick. Chill for 15 minutes. Use a tea bag as a guide and cut out the cookies. Use a straw or a pastry tip to cut a hole in the top of each shortbread. Bake at 325°F for 15 minutes. Allow to cool completely. Attach a string to each cookie and a little sticker or paper of your choice to make a tea bag. Dip the bottom of each cookie in melted chocolate. Chill until chocolate sets.
Step 5/5
In a large glass container, place the tea bomb in the center. Pour hot water over the tea bomb to melt the sugar and infuse the tea. Allow to infuse the time necessary, then top with cold water. Add the ice ring. Place the shortbread cookies around the outside of the bowl and serve the tea in glasses (pouring through a tea strainer). Add in extra ice cubes and fruit as desired. Serve and enjoy!