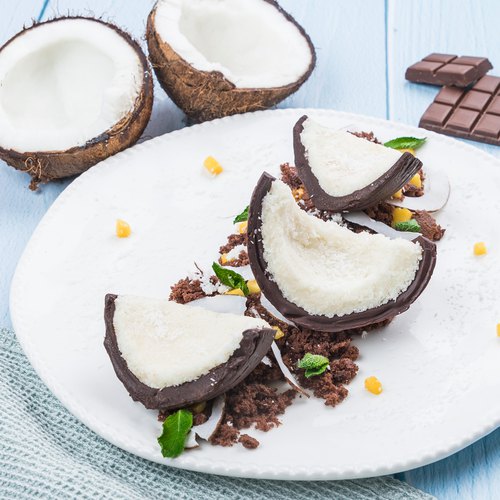 Coconut & Chocolate Illusion
Coconut & Chocolate Illusion! Go coconuts for this dessert 🤩🥥🍫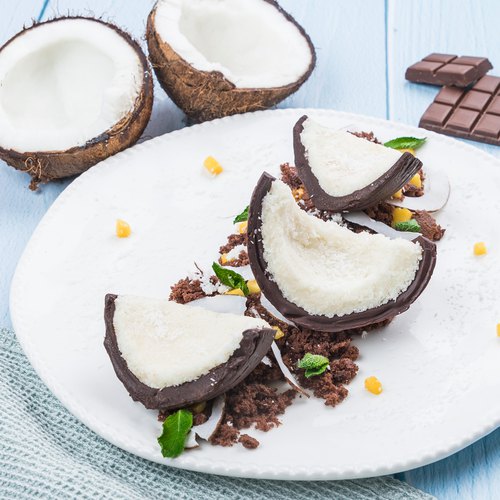 ---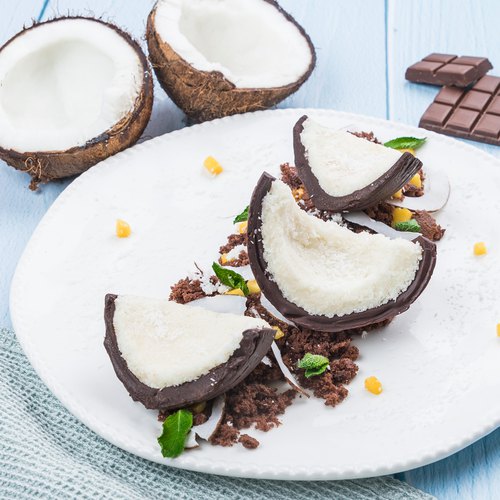 ---
Total time: 1 hour 30 minutes
Prep time: 35 minutes, Cook time: 25 minutes, Rest time: 30 minutes
Ingredients for 3 people
2 egg
1/2 cup of sugar
0.4 cup of butter
7 oz of dark chocolate
5 tbsp of flour
2 coconuts
3/5 cup of condensed milk
1 mango
5 mint leaves
---
Tools
Piping bag
---
Step 1/3
Mix the eggs, the sugar until you obtain a smooth mixture. Melt 3.5 oz of dark chocolate and the butter, mix until smooth, add the mixture of eggs and sugar, the flour and mix until you obtain a smooth cake batter. Place it in a piping bag and set it aside. Cut the coconuts in 2, heat each half of the coconut and soak them in cold water to release the flesh of the coconut from the shell. Pipe the chocolate cake batter inside the coconut shell and bake for 25 minutes at 350°F.
Step 2/3
Crumble the inside of the other half of the coconut, add the condensed milk and mix. Melt the rest of the dark chocolate, pour it into a coconut shell, spread the chocolate over the entire surface, remove the excess chocolate and refrigerate for 30 minutes. Repeat the process to have a second chocolate shell. Unmold the chocolate shell from the coconut shell, scrape the surface of the chocolate shell with a fork to obtain a texture similar to coconut. Garnish the chocolate shell with the coconut and condensed milk mixture, dig a space in the center, then cut the shell in 2. Repeat the process to have 3 parts.
Step 3/3
Cut the mango into pieces. Crumble the chocolate cake in a row in the center of the plate, grate coconut strips, sprinkle with crumbled coconut. Place the mint leaves, the mango, the garnished chocolate shells and enjoy!