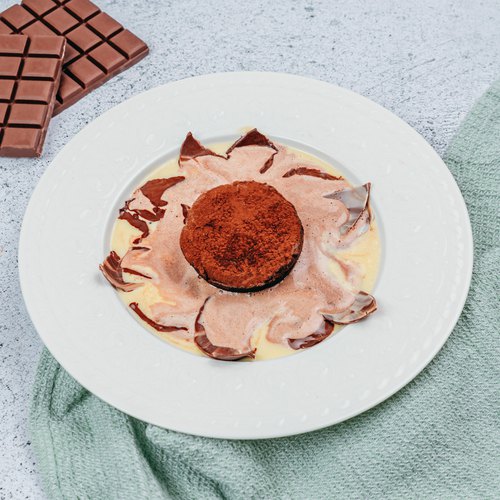 Boozy Chocolate Lava Cake
Boozy Chocolate Lava Cake! With a delicious kick of rum 🎂🍹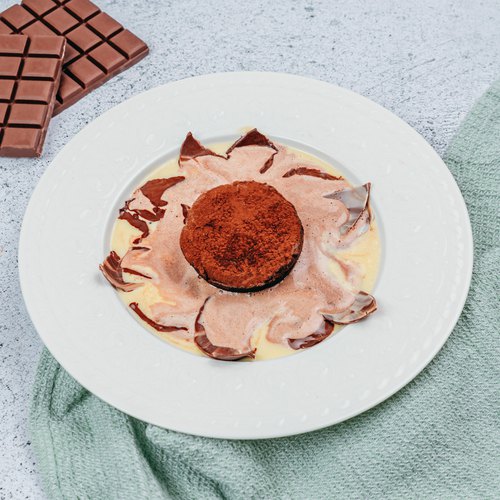 ---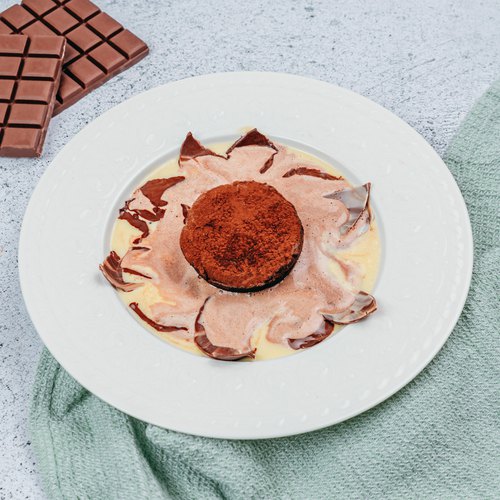 ---
Total time: 50 minutes
Prep time: 30 minutes, Cook time: 20 minutes
Ingredients for 4 people
10 oz of dark chocolate
3 oz of white chocolate
3/4 cup of sugar
3 tbsp of heavy cream
3 tbsp of cacao powder
6 egg
6 tbsp of flour
1 banana
1 tbsp of rum
0.4 cup of butter
Vanilla custard
---
Tools
Piping bag
---
Step 1/4
Fill a silicone mold with water and put it in the freezer to make an ice cube. Unmold the ice cube. Melt 3 oz of dark chocolate and the white chocolate, pour them into the ice cube mold to freeze the chocolate and obtain shells. Unmold the shells, turn them over, heat the blade of a knife and cut the shells in half.
Step 2/4
Mix 3.5 oz of dark chocolate and 0.4 cup of melted butter, add 6 tbsp of sugar, 2 eggs and the flour. Mix and pour into a muffin tin. Bake for 20 minutes at 350°F. Press down on the center of the cupcakes, pour 2 oz of melted dark chocolate and add the mashed banana. Flambé the rum and pour it over the cakes.
Step 3/4
Whip 3 egg whites and 2 tbsp sugar. Metl 2 oz of dark chocolate and fold it into mixture. Put the chocolate mousse in the piping bag, pipe it on the cakes, spread it and sprinkle with cacao powder.
Step 4/4
Place the chocolate shells around the cakes and serve with the warm custard. Enjoy!