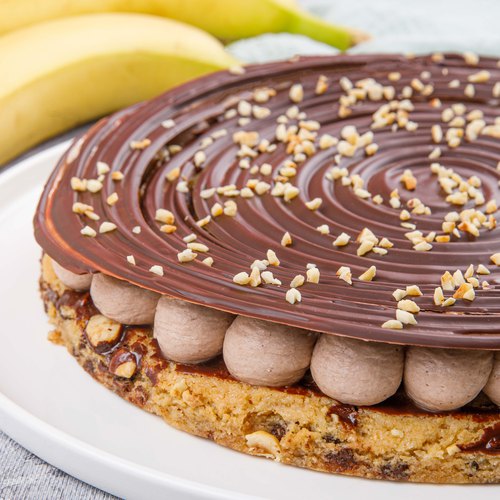 Giant Chocolate & Banana Cookie
Giant Chocolate & Banana Cookie! This recipe is a batch made in heaven 🍪🍫🍌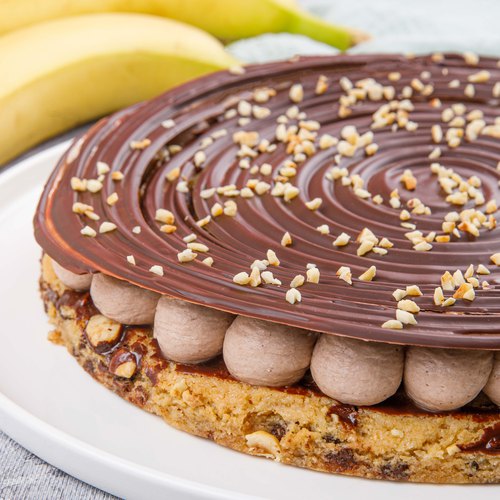 ---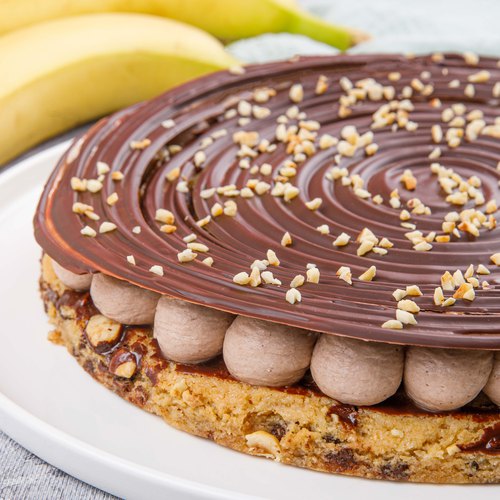 ---
Total time: 45 minutes
Prep time: 45 minutes
Ingredients for 6 people
1 egg
3 bananas
9 oz of chocolate chips
3 1/2 oz of hazelnuts
1 cup of butter
3 1/2 oz of dark chocolate
1 cup of sugar
1 tsp of baking powder
3 cups of flour
1 tbsp of rum
2 tbsp of powdered sugar
Heavy cream
Cacao powder
Mascarpone
---
Step 1/4
Cream the butter and sugar. Add the egg, the flour and baking powder then the chocolate chips. Shape into a roll and garnish with crushed hazelnuts. Roll into a spiral and bake for 30 minutes at 350°F.
Step 2/4
Cook the bananas in a pan with a knob of butter and 1 tbsp of powdered sugar. Flambé with 1 tbsp of rum.
Step 3/4
Make the whipped cream by whisking together the heavy cream, mascarpone, powdered sugar and cacao powder.
Step 4/4
Assemble the tart, starting with the cream on the cookie. Garnish the inside with bananas and cover with a disc made with dark chocolate. Serve and enjoy!